What gift do you plan for that special person's birthday?

What present would delight your boss tremendously?

What place in your home would look awesome with a ship model?

Where in your office can a model ship can help break the ice and start an intrigue conversation?

Just pick one of our 100 plus model ships and consider mission completed! Our models are specially made for discernible taste and of very limited quality. That's what makes them unique. Here are some more reasons that help you make an informed decision.

Primary reasons:

- Quality from the inside: Plank-on-frame hull, hollow superstructure, contains over 95% wood and metal.

- Beauty on the outside: Ultimate woodworking ability, large variety of exotic wood, minimal use of decal which will curl up in a couple years. (We use decal mostly for names and markings only, not windows and portholes.)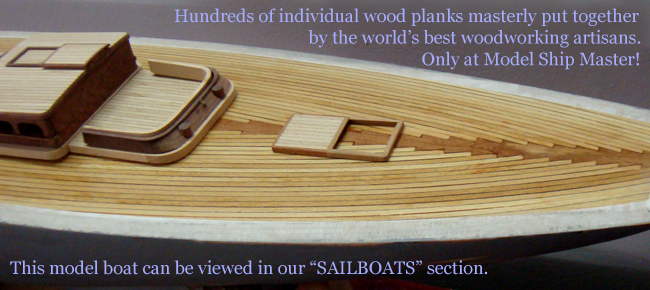 - Versatility: Any ships, any sizes. If you give us the right amount of incentive and a year, we can exceed any ship models in the history of model making by accuracy, quality, and by look.

- Trust: Headquarter, workshop, and warehouse in the United States. Our craftsmen can go anywhere to repair or build your models (i.e. for motion picture projects.)

Secondary reasons:
- Advanced remote control functions: With the ability to work with metal, we can build virtually any RC hardware in house.
- Top nautical research capability: If plans do not exist, we can draw them from pictures and facts just like we have done for several museums such as the National Maritime Museum Antwerpen in Belgium and The Navy Museum of Brest in France.

- Light weight: A 6-foot long model can be moved around by one person, on foot. No needs to fortify your table for our plank-on-frame, hollow-hull model ships.

- Appreciation: Very limited production makes antique value a possibility. Only about 10% of our entire gallery have more than 30 units ever produced. And higher priced items will never exceed 20 units.
- Timing: For commission work after Oct. 2014, if your custom-made model is not delivered on time as agreed, per your request, a 5% discount will be applied for the first month of lateness. 10% for the second month... We are now more selective of clients and able to reduce our workload.


"Interested in speaking to someone in corporate sales in regards to using your well constructed ships as an incentive premium for some upcoming corporate golf tournaments. Your boats look are exquisitely designed and would pair well with our maritime client! Our lead time is generous, as we are looking at events dates taking place in August and September. Quantities sought are 7 dz... Best Regards, Bob Goren"