256-bit encryption
$500,000 protection





BARCHETTA 157
Luxury motor yacht Barchetta 157 is about as custom as a semicustom yacht can get—with unique features that go well beyond her bold interior decor that include iridescent glass sink sculptures and glow-in-the-dark glass inlays designed by Jaqueline Mann.

The yacht is the latest in Christensen's Advanced Production Series, in which the builder starts a 157-footer every four months with a goal of delivering three yachts a year to busy owners who want a customized yacht but not the hassles of the custom-build process. Barchetta is the third such delivery. Barchetta is the first Christensen to have a bulbous bow which gives better fuel efficiency and range. It also gives her better speed.

With a top speed of 17 knots, M/Y BARCHETTA boasts a very robust water 'toy box' including a 35' fishing boat, a water trampoline and a submarine. Up to 12 guests can be comfortable accommodated and entertained.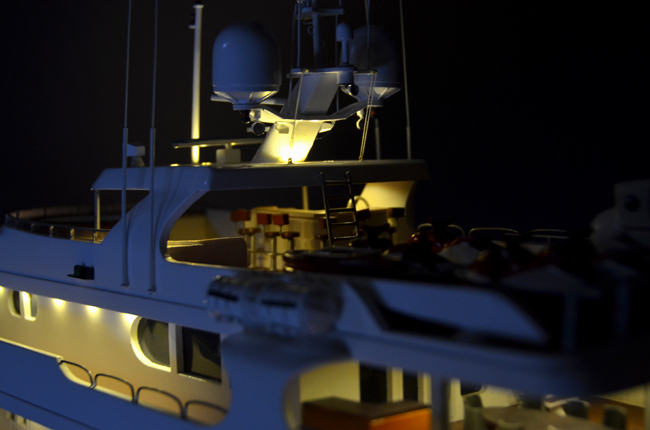 This 3' long Barchetta 157 model is a special order and built purely from scant photos on the Internet. The bow shape is different from the real yacht due to client's request. Like all of our yacht models, this yacht model has the following qualities:
- Plank-on-frame (very important), hollow hull construction, weighing less than 10 lbs (A solid hull of this model would be over 30 lbs and feel more like a toy rather than an art piece.)

- The hollow superstructure is comprised of many individual thin pieces of wood glued together, not several solid pieces of wood stacking on top one another.

- Windows are cutouts (not black decal which will curl up very soon), thanks to the hollow structures.

- >95% of parts are wood and metal.

Let us build your yacht today by clicking on this link: Custom model yacht