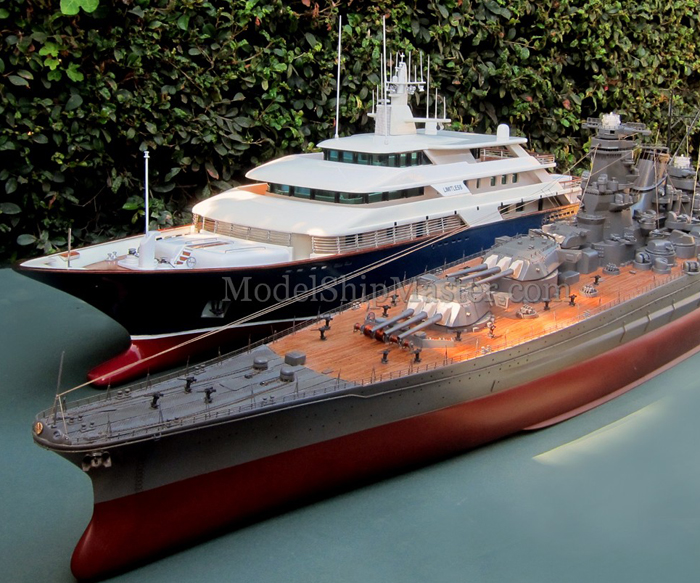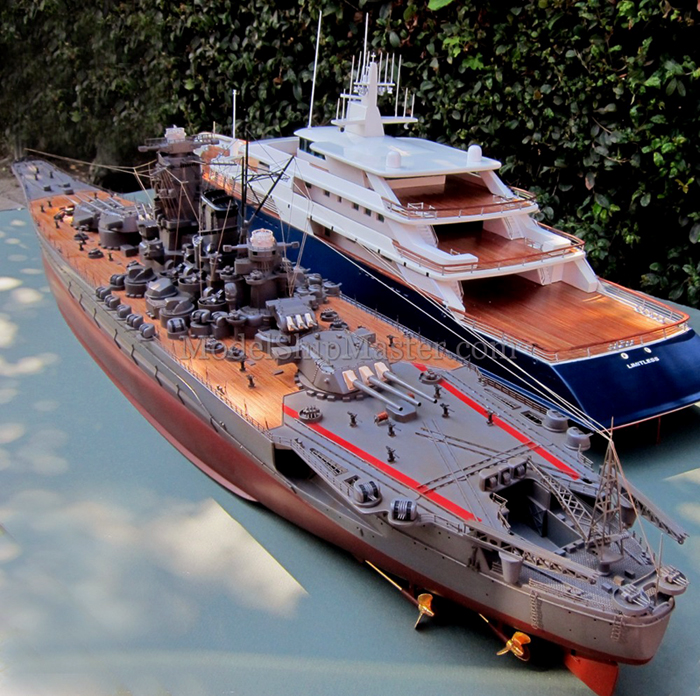 Like all of our superyachts, this Limitless model has the following qualities:
- Plank-on-frame, hollow hull construction, weighing less than 10 lbs (A solid hull of this model would be over 40 lbs, requiring 2 people to handle and a fortified table to accommodate.)
- The hollow superstructure is comprised of many individual thin pieces of wood glued together, not several solid pieces of wood stacking on top one another.
- Windows are cutouts (not black decals), thanks to the hollow structures.
- >99% of parts are wood and metal.
48" long x 18" tall . Only two models were made. $4,900
S & H is $150 SOLD OUT
Please click here for a display case for your model: Model ship display case

Please note that all of our superyacht (mega yacht) models are hollow hull which is plank-on-frame. That is very important. We never construct a superyacht model by gluing solid blocks of wood together and onto a hull which is also made out of another (large) block of wood and then apply some vinyl dark decal on it to make windows, portholes... We also do not make a hull by making a mold and pour synthetic materials in it. So, those beautiful curves and bulges are not carved and sanded in but wood planks bent by heat and nailed/glued on to a wooden frame.
Our upholding of traditional meticulous woodworking method is all about value. Visit a prestigious antique store or a upscale art gallery, talk to their owner and you'll see what they carry is not "fabricated"--machine-made ship models but something like "imagine how much time and care the artisan gives this piece", followed by an interesting conversation about the materials and construction method.
The majority of the yacht models on our mega yacht pages were built from our own drawings based on photos of the real yachts. (we have drawn plans for the many museums). Have a look and see how good they are. Now imagine if we had their official plans...