256-bit encryption
$500,000 protection




MALTESE FALCON yacht model
The 289-ft. Maltese Falcon is the largest and most expensive sailing superyacht. This extravagant and elegant ocean voyager was built for the venture capitalist Tom Perkins (one of the men who helped found Silicon Valley.)

Maltese Falcon completed its trial sail on June 12th, 2006, and made her maiden voyage from Turkey to Italy in July 2006.

Fully rigged, the three story 20 story carbon fiber masts hold sails that can move the Maltese Falcon across the Atlantic in just ten days. The yacht's sophisticated computer detects parameters such as wind speed automatically, allowing a single person to pilot the yacht. Perkins himself wrote some of the yacht's unique control software.

The superyacht has a permanent crew of 18 to maintain the technical aspects, including the rig and to operate the onboard "hotel" which can accommodate twelve guests plus four guest staff.

The Maltese Falcon yacht was sold in 2009 for $100 million to Hedge-fund manager Elena Ambrosiadou. Perkins sold the yacht to concentrate on his new interest of a personal submarine that has wings and, says The Sunday Times, "resembles Stingray from the children's puppet series".

Some of the awards the Maltese Falcon's won:

- 2007 International SuperYacht Society — Best superyacht over 36 m
- 2007 Showboats international Award — highest technical achievement in a sailing yacht
- 2007 Showboats international Award — best sailing yacht interior
- 2007 Showboats international Award — best sailing yacht over 40
- 2007 Showboats international Award — most innovative sailing yachts
- 2007 Boat International World SuperYacht Award — Sailing Yacht of the Year
- 2007 Boat International World SuperYacht Award — Best Sailing Yacht 45m and above
- 2007 Boat International World SuperYacht Award — Best Sailing Yacht Interior
- 2006 Vela e Motore — Superyacht dell'anno 2006
- 2006 Yacht Capital BMW Award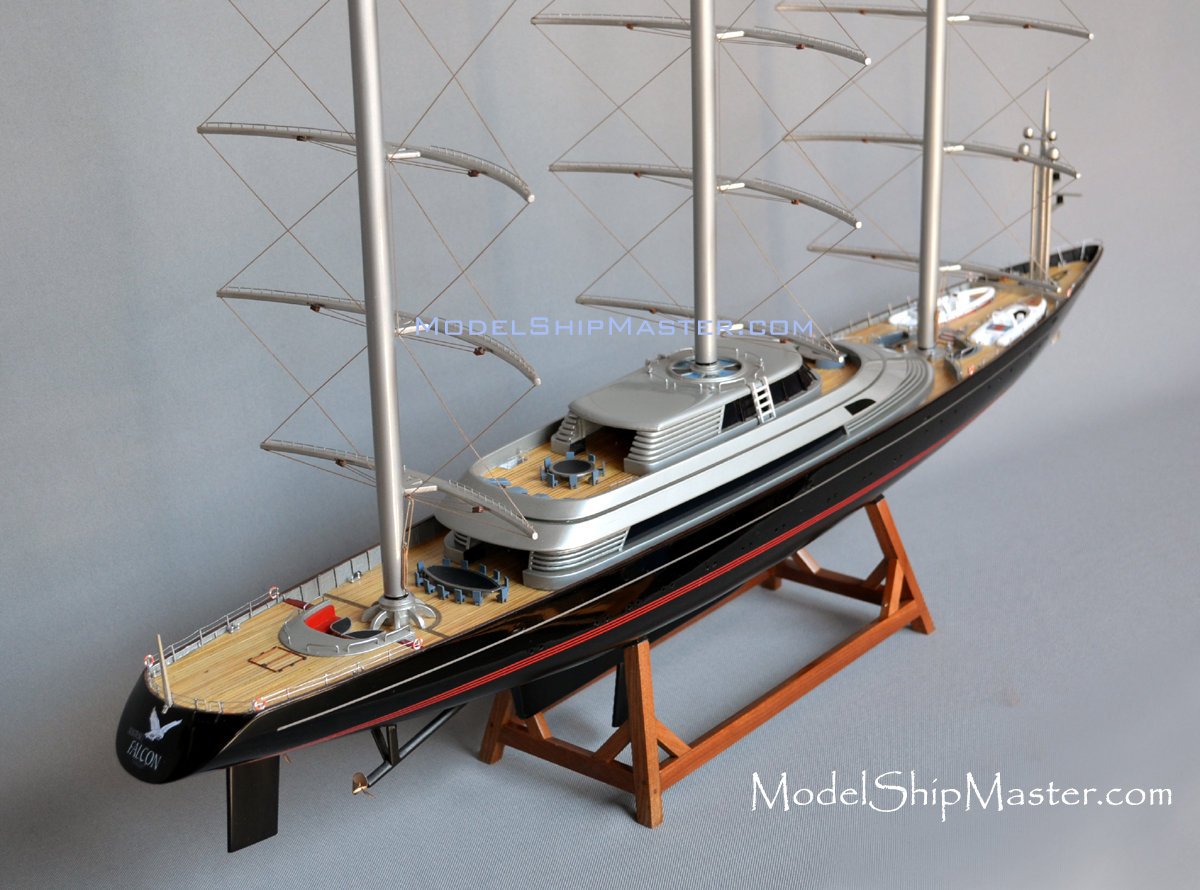 Like all of our superyacht models, this Maltese Falcon model has the following qualities:
- Plank-on-frame (very important), hollow hull construction, weighing less than 10 lbs (A solid hull of this model would be over 40 lbs, requiring 2 people to handle and a fortified table to accommodate.)

- The hollow superstructure is comprised of many individual thin pieces of wood glued together, not several solid pieces of wood stacking on top one another.

- Windows are cutouts (not black decals), thanks to the hollow structures.

- >99% of parts are wood and metal.

37" long x 27" tall x 9.5" wide (including base's dimensions) $3,500
SOLD OUT (only three were made)
Shipping and handling cost: for shipment in the USA: $150, Canada and Hawaii $390, Europe, Middle East and Africa $450, Australia and East Asia $590. Will be added automatically during the checkout process. Model will arrive in about seven days. Express 2-day service in the USA is also available during the checkout process.
Let us build your yacht today by clicking on this link: Quotation for a superyacht model