256-bit encryption
$500,000 protection





REALE DE FRANCE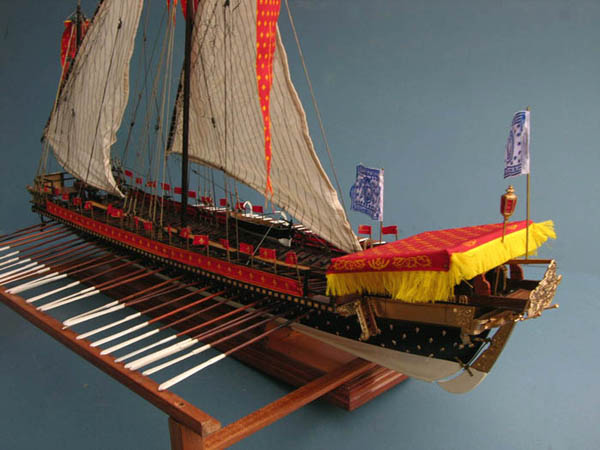 La Réale ("the royal") was a galley of the French galley corps, and the flagship of the French galley fleet under Louis XIV. It was termed an galère extraordinaire, "extraordinary galley" since it had a larger crew than normal fleet galleys. The decorations of the stern are on display at the Musée de la Marine in Paris. The museum also features a contemporary model of an ordinary galley modified to look like the Réale.
The Réale is reserved for the general of the galleys and flies the royal ensign which distinguishes it from the others. This ensign is square in shape and red in colour, with golden fleurs-de-lys.



This beautiful model features:
Scratch-built

Plank-on-frame (very important)

All parts are wooden or metal

Flags and canopy are silk
40" L x 30" T x 20" W $3,900
S & H is $150 Sold out.

If you can wait for about 6 months, we can make another model for you. Let us know at services@modelshipmaster.com



"The ship is beautiful and displays very well. I'm running out of space for large ships, but am still interested the xebec. I'll be in touch.
Sincerely,
Gerard W.
Jan. 29, 2015"