USS NEW IRONSIDES
The most powerful vessel in the Civil War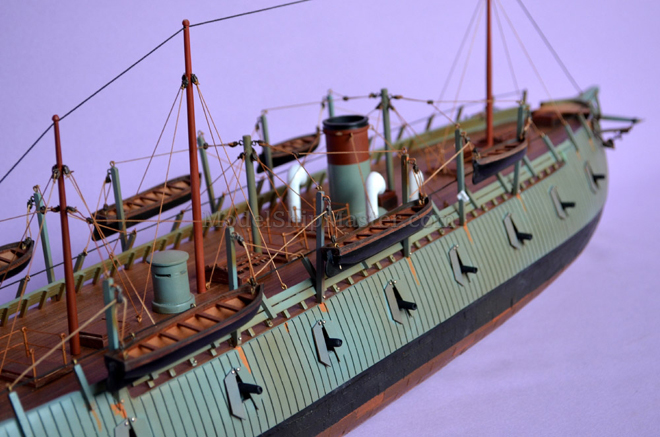 USS New Ironsides was one of the Union's original three "salt-water" ironclad warships during the American Civil War. Commissioned at Philadelphia Navy Yard 21 August 1862, New Ironsides was the last, and largest, of the group of three. She was named after the sail frigate USS Constitution, the legendary "Old Ironsides" of the War of 1812 because of her very thick armor.
From the waterline, New Ironsides' armor was by 4.5-inch. Below the waterline it was 3 inches. This tremendous iron protection made the ship ideal for blockading and she spent most of her career blockading the Confederate ports of Charleston, South Carolina, and Wilmington, North Carolina, in 1863–65. Although she was struck many times by Confederate shells, gunfire never significantly damaged the ship or injured the crew. Her only casualty in combat occurred when she was struck by a spar torpedo carried by the CSS David.
New Ironsides' broadside battery of eight heavy guns on each side made her a uniquely valuable ship for bombardment purposes. She bombarded the fortifications defending Charleston in 1863 during the First and Second Battles of Charleston Harbor. At the end of 1864 and the beginning of 1865 she bombarded the defenses of Wilmington in the First and Second Battles of Fort Fisher.
USS New Ironsides was fitted with a steam engine which propelled her up to eight knots. She also had a sail rig, which was removed and stowed while the ship was engaged in hostile action.
After the war USS New Ironsides was decommissioned at League Island on 6 April 1865. The veteran ironclad--the most powerful warship of her era, was destroyed by fire on 16 December 1866.




This ironclad civil war vessel USS New Ironsides features:
Scratch-built

Superior hollow hull construction (very important)

All parts are wooden or metal

Weathered look (some rust and dirt) like like a real warrior ironclad

Wooden base is included