256-bit encryption
$500,000 protection





USS MONITOR
civil war ship model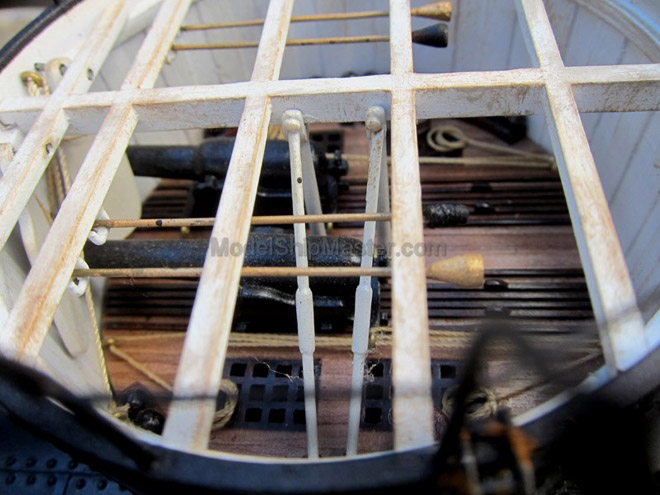 The USS MONITOR was a marvel of the mid-nineteenth century. There are many first's associated with the USS MONITOR. She was was the first ironclad warship commissioned by the United States Navy, the first ship employing a revolving turret. The MONITOR also the first ship which had below waterline flushing toilets.
USS Monitor was built as one of three experimental ironclads for the US Navy. The birth of the Monitor was a direct response to the transformation of the captured USS Merrimack into an ironclad by the Confederate.
USS Monitor was designed by Swedish-born inventor John Ericsson. Ericsson produced a revolutionary design which included a revolving turret, a low freeboard (only the ship's turret, stacks, and small armored pilot house projected above the hull.) This almost non-existent profile made the ship very difficult to hit. Highly impressed by Ericsson's innovative design, Cornelius S. Bushnell--one of Connecticut's most distinguished men--traveled to Washington and convinced the Navy to authorize its construction. The contract for the ship was given to Ericsson and work began in New York.
Working at a frenetic pace, the USS MONITOR was launched just within 100 days of being laid down. On February 25 work was completed and Monitor commissioned with Lieutenant John L. Worden in command.
Though in service for less than a year, USS MONITOR profoundly influenced warship design and several similar ships were built for the Union Navy. She sunk on December 31, 1862 when she encountered stormy high waves off Cape Hatteras.
In 1973, USS MONITOR's wreck was discovered. In 2001, recovery efforts began to salvage the ship's steam engine. The next year, Monitor's innovative turret was raised. These have all been taken to the Mariner's Museum in Newport News, VA.
Regular version
=>
Special edition
=>




Like all our civil war ironclad models, this USS MONITOR model features:
Plank-on-frame construction (very important)

All parts are wooden or metal

Armor: Real metal, individual plates (not a big piece with fake lines). Nobody else has done this kind of realistic armoring.

Weathered look: some rust and dirt artistically made and placed to portray a real tough ironclad
31" long x 8" wide x 10" tall (including base) $1,500
S&H is $90 Out of stock
Limited edition (last row of photos): $1,900
S&H is $90
For display case, please click here: Model Ship Display Case
And please click on the blue wording to check out our beautiful CSS Virginia model and USS Tecumseh model