256-bit encryption
$500,000 protection




USS TECUMSEH model
USS TECUMSEH was launched on 12 September 1863 and commissioned on 19 April 1864. The ship's construction was delayed by multiple changes that reflected battle experience with earlier monitors. This included the rebuilding of the turrets and pilot houses to increase their armor thickness from 8 inches to 10 inches, deepening the hull by 18 inches to increase the ship's buoyancy, moving the position of the turret to balance the ship better...

The result was a very well built ship. The USS TECUMSEH's hull were protected by five layers of 1-inch wrought iron plates, backed by wood. The armor of the gun turret and the pilot house consisted of ten layers of one-inch plates. The ship's deck was protected by armor 1.5 inches thick. A "rifle screen" of 1⁄2-inch (13 mm) armor 3 feet (0.9 m) high was installed on the top of the turret to protected the crew against Confederate snipers.
Tecumseh's powerful armament consisted of two smoothbore, muzzle-loading, 15-inch (381 mm) Dahlgren guns mounted in a single gun turret. Each gun weighed approximately 43,000 pounds and could fire a 350-pound shell up to a range of 2,100 yards!
During her lifetime, USS TECUMSEH was involved in a number of notable operations along the James River. To guard Union shipping against Confederate forces, the Union Army and Navy worked closely together by blocking the channel to prevent Confederate warships from coming down the upper navigable reaches of the James. The USS TECUMSEH was instrumental during these operations, sinking four hulks and a schooner.

USS TECUMSEH's most famous event was the Battle of Mobile Bay. In this battle, 18 Union ships crossed the bar at flood tide and moved into the bay. Tecumseh led a van of monitors, which included USS Manhattan, USS Winnebago, and USS Chickasaw to passed between the fortified headlands, to starboard of the wooden frigates, in order to take the fire from the heavy guns from Fort Morgan. When TECUMSEH veered left to engage the the heavy ironclad ram CSS Tennessee, she hit an underwater mine and sank rapidly with its captain and 92 crewmen.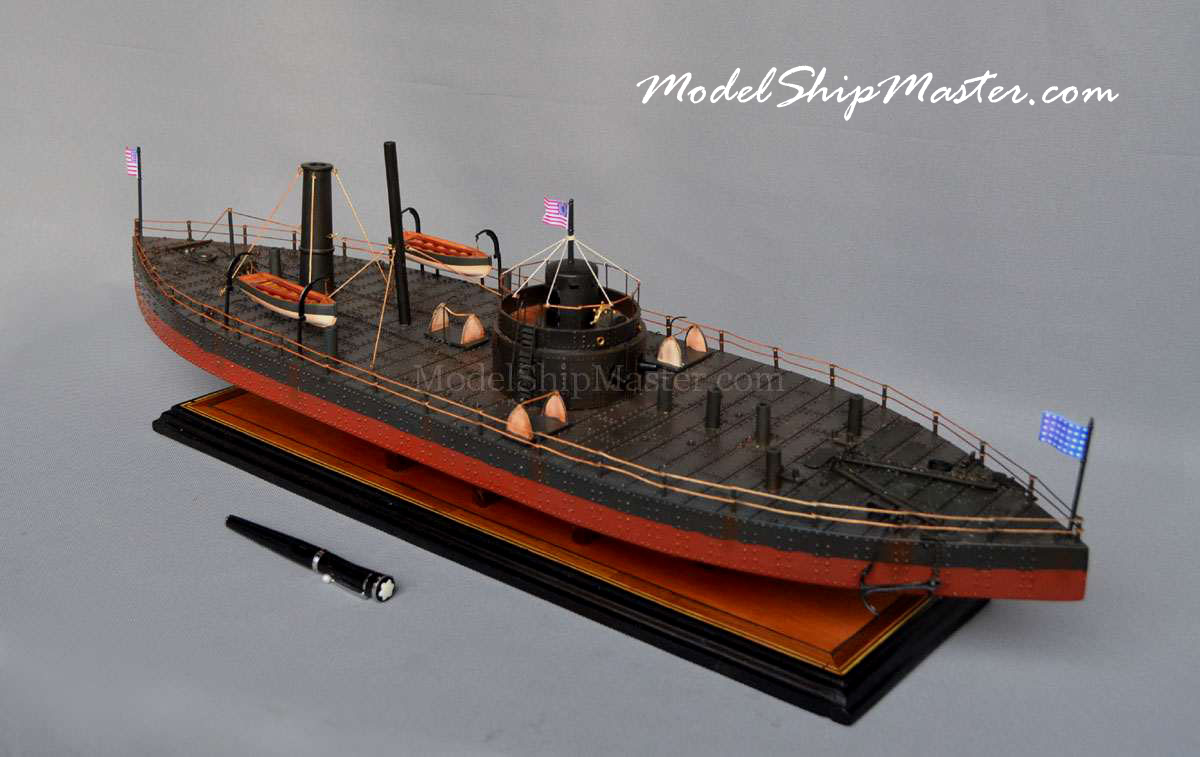 Like all our civil war ironclad model, this USS Tecumseh model features:
Superior hollow hull construction (very important)

Armor: real metal, individual plates. Nobody else in the world has done this kind of realistic armoring.

Weathered look: some rust and dirt artistically made and placed to portray a real tough ironclad

All parts are wooden or metal
30" long x 10" tall x 8 wide $1,600
S&H is $90
For display case, please click here: Model Ship Display Case
And please click on the blue wording to check out our beautiful CSS Virginia model and USS Monitor model