256-bit encryption
$500,000 protection




HSV-2 SWIFT
High Speed Vessel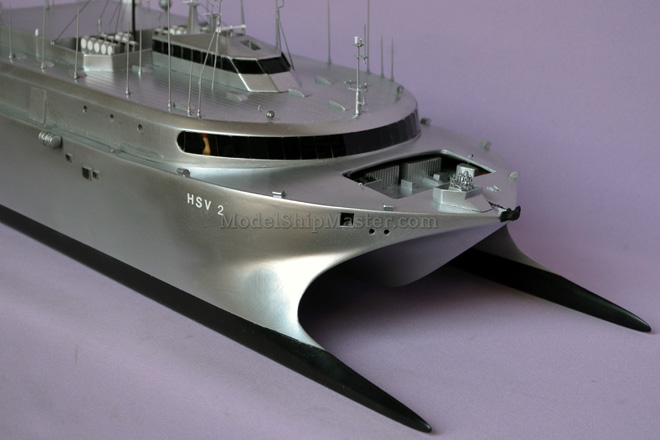 The Swift HSV-2 is a wave-piercing, aluminum-hulled, catamaran. She has a helicopter flight deck, vehicle deck, small boat and unmanned vehicle launch and recovery capability, and an enhanced communications suite. The modular design allows the ship to be refitted to support any mission without requiring long shipyard periods.
From 2003 to 2013, Swift operates primarily as a mine countermeasures and sea basing test platform. In her later official naval career, she was used as a logistics supply and non-governmental organization command platform supporting overall United States Naval Strategy and humanitarian partnership missions. As of 2015, the ship was reported to have been leased by the United Arab Emirates' National Marine Dredging Company. On October 1st 2016, the ship was attacked and seriously damaged off Yemen. According to unnamed US Department of Defense officials, the vessel sustained serious damage to its bow, but remained afloat.
Swift has two crews which rotate the ships operations approximately every four months, allowing her almost continuous operations. Propulsion is provided by directional water jets, so the ship does not have propellers or a rudder for steering, and can maneuver in 3.7 m (12 ft) of water. While from the front the vessel looks like a trimaran, the center hull does not rest in the water and is not used for buoyancy. As a logistics vessel, the ship does not have water-tight compartments or weapons systems.

Like all of our warship models, this hsv-2 Swift ship model has the following qualities:

- Hollow hull construction (very important), weighing less than 10 lbs (A solid hull of this model would be over 30 lbs which feels like a heavy toy rather than an art piece.)

- Hollow superstructure comprised of many individual thin pieces of wood glued together, not few blocks stacking on top one another.

- Windows are cutouts (not black decals), thanks to the hollow structures.

- Light rust appearance to give the ship a seagoing look (not a shiny toy).

- >95% of parts are wood and metal.
37" long x 12 tall x 10.5 wide $3,900
S & H is $90 SOLD OUT and DISCONTINUED (Congratulations to our patrons who have purchased this model. Only two units exist in the whole world.)