256-bit encryption
$500,000 protection



PBR
The PBR was an extremely dangerous boat. It could be pivoted to reverse direction, turned in its own length, or come to a stop from full speed in a few boat lengths. It could reach top speeds of 28.5 knots (53 km/h.) And amazingly, it needed only two feet of water even when fully loaded.

PBR was armed with twin .50 caliber (12.7 mm) machine guns (the forward '50s), an M60 7.62 mm machine gun, a Mark 18 grenade launcher, and sometimes a 20 mm cannon. The machine gunners and conning tower were protected with ceramic armor.
PBR was used in the Vietnam War from March 1966 until the end of 1970. They were deployed in a force that grew to 140. The main purpose of this well-engineered boat is to stop and search traffic in areas such as the Mekong Delta for enemy's weapons shipments.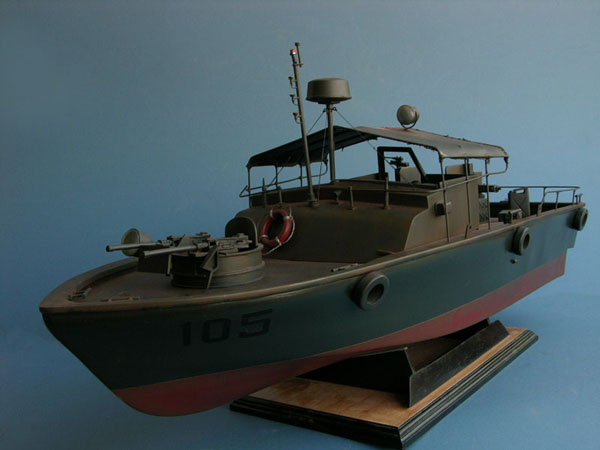 Like all of our warship models, this PBR boat model has the following qualities:

- Plank-on-frame, hollow hull construction (very important), weighing less than 10 lbs (A solid hull of this model would be over 30 lbs which feels like a heavy toy rather than an art piece.)

- Hollow superstructure is comprised of many individual thin pieces of wood glued together, not several solid pieces of wood stacking on top one another.

- Windows are cutouts (not black decals), thanks to the hollow structures.

- >95% of parts are wood and metal.

- Rust appearance to portray realism: A rough riverine craft, not a shiny toy.




24"long x 17"tall x 11 wide $990 S & H is $90


Add a case: https://modelshipmaster.com/products/accessory/displaycase.htm