256-bit encryption
$500,000 protection





USS PENNSYLVANIA ACR-4
the first successful aircraft landing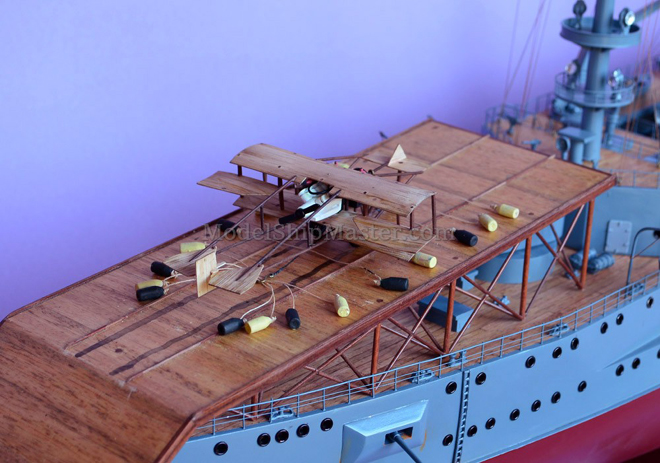 The USS Pennsylvania (ACR-4), also referred to as Armored Cruiser No. 4, was the lead ship of her six-ship class. On January 18, 1911, Eugene Ely landed his Curtiss plane on a platform constructed on USS Pennsylvania's afterdeck anchored in San Francisco Bay using the first tailhook system. This was the world's first successful aircraft landing on a ship, thus opening the era of naval aviation and aircraft carriers.
Future Rear Admiral Ellis M. Zacharias served as a line officer aboard of the Pennsylvania which was renamed Pittsburgh in 2012.

Pittsburgh became flagship for two of the Commander-in-Chiefs, US Naval Forces European Waters, Admiral Philip Andrews in 1924–1925 and Vice-Admiral Roger Welles in 1925–1926.

Like all of our warship models, this USS PENNSYLVANIA ship model has the following qualities:

- Plank-on-frame, hollow hull construction, weighing less than 30 lbs (A solid hull of this model would be over 120 lbs requires two strong persons and a fortified table.)

- Hollow superstructure comprised of many individual thin pieces of wood glued together, not few blocks stacking on top one another.

- Windows are cutouts (not black decals), thanks to the hollow structures.

- Light rust appearance to give the ship a tough battle look (not a brand new shiny toy)

- >95% of parts are wood and metal.


60" long x 24" tall x 9" wide $9,200
s&h $220

Note: As long as you don't see the "sold" sign next to s&h $220, the model is still available for purchase.