256-bit encryption
$500,000 protection





USS NICHOLAS DD-449
WWII destroyer model ship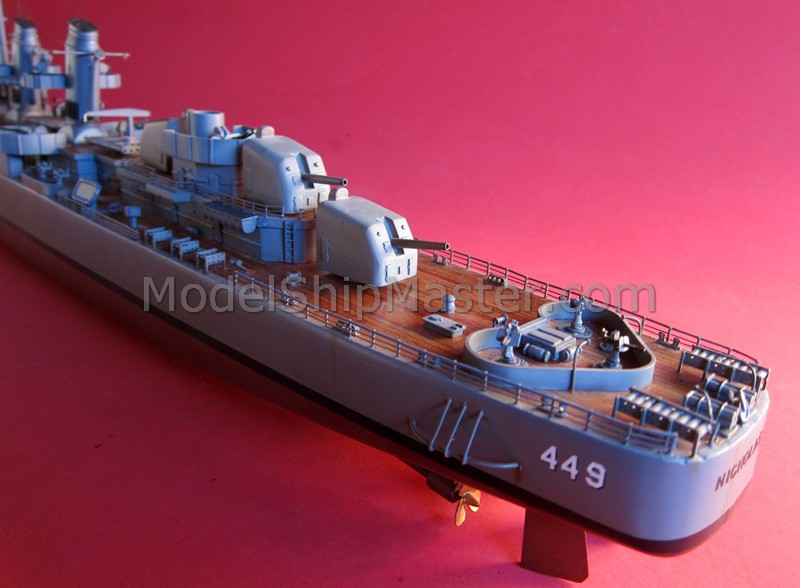 USS Nicholas DD-449 was one of the most decorated ships of WWII. She earned 16 battle stars including two for submarines sunk. She was also awarded one of the first Presidential Unit Citations for action in the Solomon Islands in 1943 and a Philippine Republic Presidential Unit Citation Badge.

In August 1945, Admiral Halsey ordered that USS Nicholas be present in Tokyo Bay for Japan's surrender "because of their valorous fight up the long road from the South Pacific to the very end" and "Outstanding among the destroyers of the Pacific Fleet..."
Assigned to his Flagship Task Group, the "Nick" disseminated Japanese pilots and peace emissaries among the fleet, escorted battleship Missouri into Tokyo Bay, and transported Allied and U.S. representatives to the formal surrender on Missouri 2 September.
On 30 January 1970, having become the navy's oldest active destroyer eight years earlier, the "Nick" was decommissioned in a ceremony at Pearl Harbor (again side-by-side with her sister O'Bannon).




Like all of our warship models, this USS Nicholas model has the following qualities:

- Plank-on-frame, hollow hull construction (very important), weighing less than 10 lbs (A solid hull of this model would be over 30 lbs which feels like a heavy toy rather than an art piece.)

- Hollow superstructure is comprised of many individual thin pieces of wood glued together, not several solid pieces of wood stacking on top one another.

- Windows are cutouts (not black decals), thanks to the hollow structures.

- >95% of parts are wood and metal

.

- Rust appearance to portray realism: A rough destroyer, not a shiny toy.


36" L x 13 T x 6" wide $1,700 S & H is $90 v