256-bit encryption
$500,000 protection




BENJAMIN FRANKLIN
Container ship model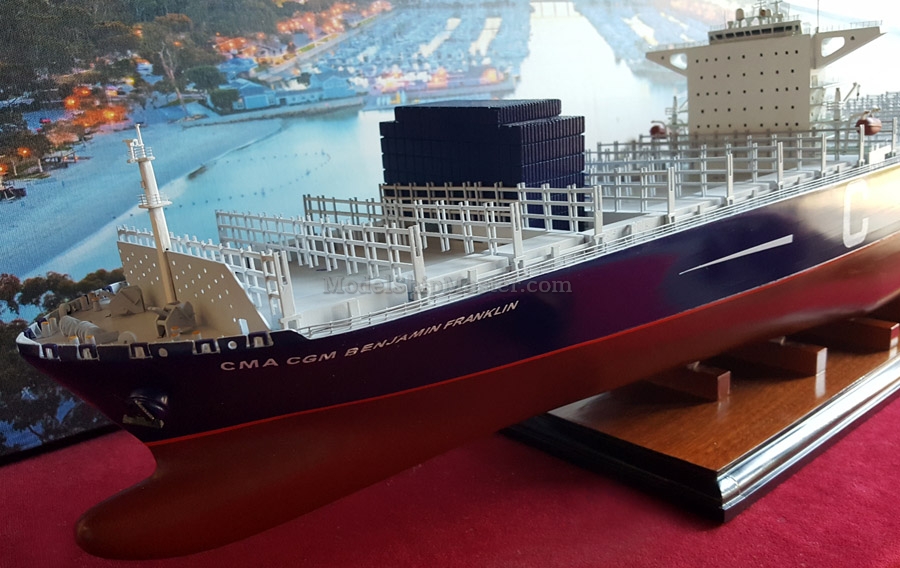 The December 26, 2015 arrival at the Port of Long Beach marked the first time a ship of this size had been used in North America. Benjamin Franklin was 18,000 TEU and about a third larger than the biggest container ships that typically visit the deep water ports of southern California.
The average vessel size for U.S. port calls as of 2015 is less than 6,000 TEU. However recently in 2016, containerships sizing from 12,000-14,000 TEU have been calling to U.S. ports in California. Notably, the CMA CGM Benjamin Franklin is the largest vessel to ever call to a U.S port. Major ports in the United States have begun dredging for 50 ft berth/channel depths and heightening their crane fleets in order to to be able to reach containers stacked to the full capacity of 10 high.

This CMA CGM Benjamin Franklin container ship model features:
- Superior hollow hull construction (very important), weighing less than 10 lbs (A solid hull of this model would be over 40 lbs which feels like a heavy toy rather than an art piece.)

- Hollow superstructure is comprised of many individual thin pieces of wood glued together, not several solid pieces of wood stacking on top one another

- Windows are cutouts (not black decals), thanks to the hollow structures

- >95% of parts are wood and metal

45.5" long x 10" tall x 7" wide $3,500
S & H is $150 90% completed. When completed, the model will have many more containers on deck.
Shipping and handling cost: for shipment in the USA: $90, Canada and Hawaii $180, Europe, Middle East and Africa $240, Australia and East Asia $310. It will be added automatically during the checkout process. Model will arrive in about seven days. Express 2-day service in the USA is also available during the checkout process