256-bit encryption
$500,000 protection





AUSTRALIA STAR 3
A Blue Star Line's Cargo ship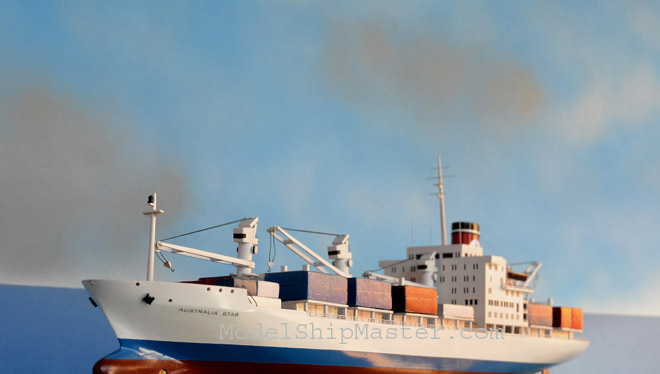 This small size 22" long Blue Star Line's Australia Star ship model features:

- Plank-on-frame, hollow hull construction (very important), weighing less than 4 lbs (A solid hull of this model would be over 12 lbs and feel like a toy rather than an art piece.)

- The hollow superstructure is comprised of hundred of individual thin pieces of wood glued together, not several solid pieces stacking on top one another.

- Windows are cutouts (not black decals), thanks to the hollow structures.
- No computer-printed paper deck.

- >95% of parts are wood and metal.

For inquiries about the possibility of a similar model, please click here: Model Ship Commissioning

Please click on this link to view our other Blue Star Line ship model: Afric Star