256-bit encryption
$500,000 protection




RMS OLYMPIC
Ocean Liner model ship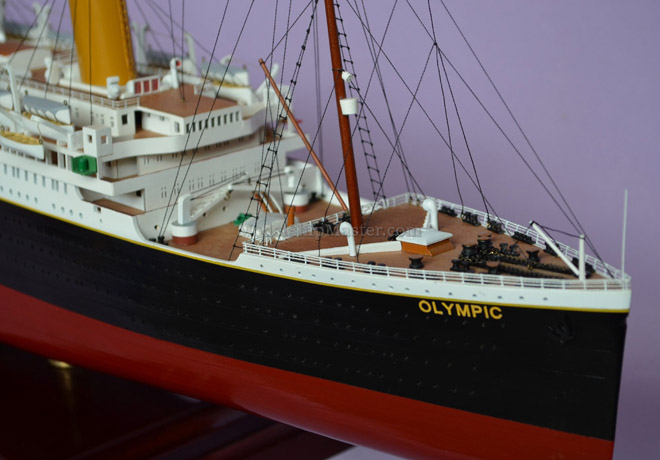 RMS Olympic was the lead ship and also the luckiest of the White Star Line's trio of Olympic-class liners. One of her sister ships was the famous RMS Titanic which sank on her maiden voyage. The other was HMS Britannic which struck a mine and sank in the Mediterranean during WWI.
Unlike her younger sister ships, Olympic had a long career, spanning 24 years from 1911 to 1935. This included service as a troopship during the First World War, which gained her the nickname "Old Reliable." Olympic returned to civilian service after the war and served successfully as an ocean liner throughout the 1920s and into the first half of the 1930s.

Olympic was the largest ocean liner in the world for two periods during 1911–13, interrupted only by the brief tenure of the slightly larger Titanic (which had the same dimensions but higher gross tonnage owing to revised interior configurations), before she was then surpassed by SS Imperator. Olympic also retained the title of the largest British-built liner until the launch of the RMS Queen Mary.


This replica model ship of the RMS Olympic features:
- Superior hollow hull construction (very important), weighing less than 10 lbs (A solid hull of this model would be over 40 lbs which feels like a heavy toy rather than an art piece)

- Hollow superstructure is comprised of many individual thin pieces of wood glued together, not several solid pieces of wood stacking on top one another

- Windows are cutouts (not black decals), thanks to the hollow structures
- Real wood deck, no computer-printed paper

->95% of parts are wood and metal
35" long x 14" tall x 7" wide $2,900
S & H is $90