Like all of our ocean liner models, this large SS Rex model ship has the following distinguished qualities:

- Scratch built from official plans
- Superior hollow hull construction (very important), weighing less than 10 lbs (A solid hull of this model would be over 30 lbs
- Real wood deck, no computer printing paper
- Windows are cutouts, not black decals
- 95% wood and metal

37" L x 14" T x 7" W (including base's width) $2,300
Add 20 figures $100

Add light feature: $200
62" L x 21" T x 8" W $7,500
SOLD OUT


Shipping and handling cost: for shipment in the USA: $90, Canada and Hawaii $180, Europe, Middle East and Africa $240, Australia and East Asia $310. It will be added automatically during the checkout process. Model will arrive in about seven days. Express 2-day service in the USA is also available during the checkout process.
"I want to thank you for the package of "little people" which just arrived in yesterday's mail. They look great, and they will balance the others already in place. People who have already seen the ship, are so anxious to "count them" and find them! It really is a lot of fun, and promotes a lot of conversation... I will continue to recommend your services to anyone who may be inspired to order a ship model after seeing the one I purchased. As promised, I will send you photos of the completed project. Sincerely, Louis"


For display case, please click here: Model Ship Display Case
Also be sure to check out our other beautiful, authentic Italian liners TS Michelangelo model and SS Andrea Doria model, and Conte di Savoia model.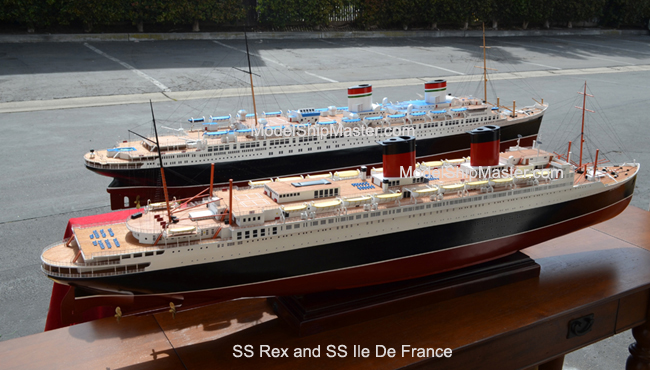 The following photo for your enjoyment is from one of our customers who have purchased from us three large ocean liner models (from 2008 to 2011) and their display cases (in Dec. 2014):