256-bit encryption
$500,000 protection



SOVEREIGN of the SEAS
At the time of MS Sovereign of the Seas' maiden voyage on January 16, 1988, she was the largest cruise ship in the world. She was initially based at the Port of Miami and the flagship of RCI's Sovereign family of cruise ships, including the Monarch of the Seas and the Majesty of the Seas.
Sovereign of the Seas' godmother is Rosalyn Carter--wife of former President Jimmy Carter and First Lady of the United States from 1977 to 1981.
Royal Caribbean's Sovereign of the Seas was once the most elaborate cruise ship at sea.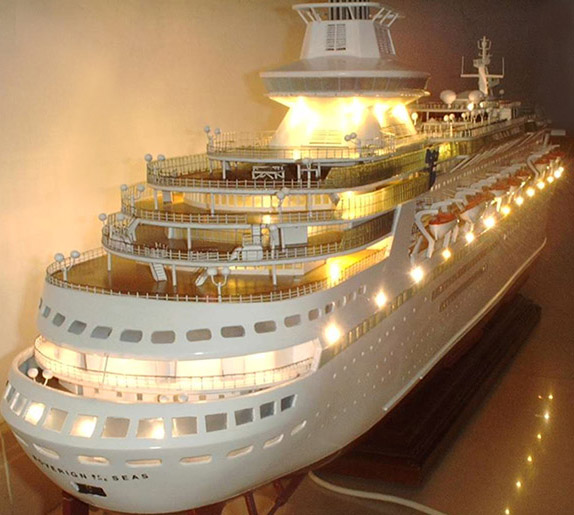 This Sovereign of the Seas model features:
- Scratch-built from official plans
- Superior hollow hull construction, weighing less than 30 lbs (A solid hull of this model would be over 80 lbs which which would require two people to handle and a fortified table to accommodate.)

- The hollow superstructure is comprised of hundred of individual thin pieces of wood glued together, not several solid pieces stacking on top one another.

- Windows are cutouts (not black decals), thanks to the hollow structures.
- No computer-printed paper deck

- >95% of parts are wood and metal.

60" long x 15" tall x 8" wide $7,500
S & H is $220 SOLD