256-bit encryption
$500,000 protection




BARAGOOLA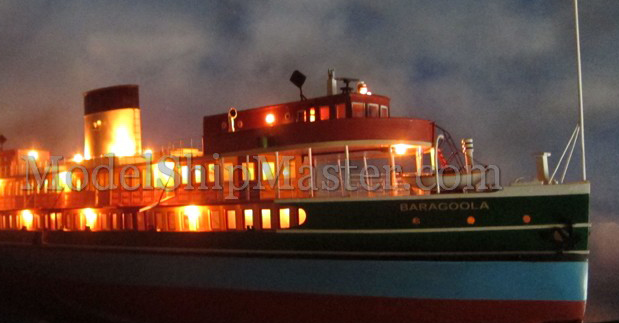 MV Baragoola was the last of of six similar sister ships built by Mort's Dock between 1905 & 1922. She was the last Manly ferry built by Mort's and also the last Manly ferry ever built in Australia. Baragoola's name means "Flood Tide" in a local Aboriginal dialect.
With the launch of the Baragoola, the Manly company was capable of carrying 10,250 passengers per trip - this was sorely needed as Manly was undergoing a tourist boom and many people were settling in the area.
Baragoola was an excellent ocean-going vessel and the most popular Manly ferry. This was evidenced by the massive turnout for her farewell trip in 1983 when she was so loaded that passengers where on the top wheelhouse deck (normally not allowed.) Apart from Barrenjoey/North Head and Bellubera, no other Manly ferry had a longer career on the harbor.
During the early 1930's Baragoola was used in an experiment involving the use of coal in the boilers. In common with similar experiments involving steam locomotives, the venture did not prove to be a success and was abandoned. One consequence had been the covering of the ship with coal dust. For a period during World War II, the vessel reverted to burning coal owing to difficulties in obtaining supplies of tar.
Baragoola holds the dubious "record" of hitting the strangest object in the harbor when she hit a whale on 28/08/1934. The ferry sliced into the whale & almost came to a halt due to the impact, no damage to the Baragoola, but the whale was hit near the head. The whale swam off towards Flagstaff Point, trailing a wake of blood in its path. After being spotted following an erratic path, observers lost sight of the whale until three days later, when the carcass surfaced near Old Mans Hat. It was towed out to sea, but by evening had drifted to within a kilometer of Bondi Beach. The whale was then towed out to around five kilometers off the coast, but by next morning, it was drifting back towards the heads. The carcass was again towed well out to sea, however, two days later it was back again on the rocks at South Head. Again, it was towed out to sea, this time nearly 18 kilometers. A report at the time had the Harbor Master saying "We'll get rid of it this time if we have to take it to New Zealand." But next day, it was back, this time stranding at the entrance to Botany Bay. On the 5th of September, the whale was towed around 25km out to sea and finally, after 9 days, was never seen again.
Baragoola provides rare evidence of the large ferry system which stimulated the growth of suburban Sydney, the development of its recreational patterns and the formation of its popular urban culture. It is a surviving example of a characteristic twentieth century Manly steamer demonstrating evolution of technology for fast double-ended navigation in deep-sea conditions. The machinery technology is unique in the Australian shipping industry. It is an extremely rare surviving example of ship construction by Mort's Dock & Engineering Co. Ltd.


This model of the Baragoola features:
- Hollow hull construction (very important), weighing less than 10 lbs (A solid hull of this model would be over 30 lbs which feels like a heavy toy rather than an art piece.)

- Hollow superstructure is comprised of many individual thin pieces of wood glued together, not several solid pieces of wood stacking on top one another

- Windows are cutouts (not black decals), thanks to the hollow structures
- No computer-printed paper deck

- >95% of parts are wood and metal
36" long x 12" tall x 6" wide. All wood and metal. Commissioned by an Australian private collector who had commissioned two other ship models earlier, the Grand Princess cruise ship and the Hydrofoil.

"Thank you very much to you and your crew I am more than pleased with my baragoola the grand old lady sits on my shelf in all her glory this lovely ship I worked on her when I was fithteen for some years thank you to all concerned. I am still interested in the Canberra... I am interested in another ship Empress of Australia she was ferry between Sydney and Tasmana do not make the mistake with the Princess of Australia the empress I will have it built after the Canberra is built.
Regards Laurence S. Bigger. Stronger. Faster. "

"Hello Frank I am really happy with my Barragoola you and your crew have done a better than expected on this ferry this Barragoola means a lot to me as said before I worked on it as a 15 year old .

I am still interested in the Canberra I am saving for the deposit $. I am all so intersted in a ANL Ferry which worked from Tasmania & Sydney the the Empress of Australia don't be mistaken with the Princess Of Australia this is down the road a bit the Canberra is next. Thank you Frank for your good work. Laurie S."