256-bit encryption
$500,000 protection





ROYAL ALBATROSS
tall ship model

In April 2015, we completed a 1:50 scale model for Tall Ship Adventure in Singapore. In September 2015, two more models, at 1:100 scale, were successfully delivered. Tall Ship Adventure ordered 50 more models in early 2016 but we must respectively declined. (We build models one by one and it would take many years to fulfill the order.) To see our unmatched accuracy and beauty, please take your time to check out the photos, especially those of the smaller models. Tiny parts were made by one of the world's most competent craftsmen and a venerable watchmaker, using the best tools of the trade and some proprietary ones. No primitive solid hull, no dark decal that deceives the eyes, no shortcuts. Only true craftsmanship.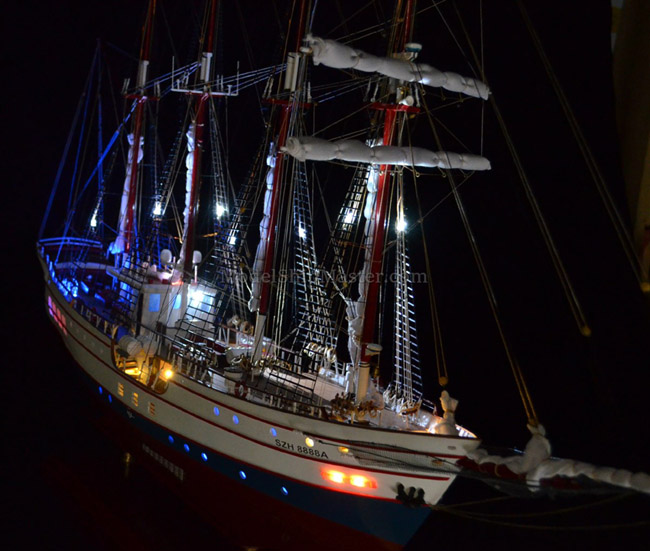 1:50 scale
(38"/96cm long) =>
1:100 scale
(19"/48cm long) =>

According to the Royal Albatross operator's Web site www.tallship.com.sg:
The Royal Albatross started her life in Chicago, cruising the Great Lakes prior to the beginning of an epic journey that brought her over 15,000 kilometres from the moderate climes of North America to the tropical waters of South East Asia.
Since arriving in Singapore, approximately 360,000 man hours have been invested re-designing and re-fitting Royal Albatross resulting in a sailing ship of unmatched quality and splendour. A ship designed to entertain and impress with 22 sails, over 650 square meters of canvas and over 60,000 RGB lights to set Royal Albatross's mood for whatever the occasion requires.
Day Sailing Capacity: 149 Guests (excluding crew)
Alongside Capacity: 200+
Overnight Charter: 10 Guests
Built: 2001 Type: Barquentine (Class-A)
Flag: LIYR Class: RINA Yacht
Hull: Steel Masts: 4 Aluminum masts
Length: 47m Sails: 22 (653 sq.meters)
Deck: 34m Rig: Staysail (w/squaresail)
Beam: 7.6m Air Draft: 28m
Draft: 3.8m Engine: 1 x 430 HP