Low-end models are not bad. They serve well the people who can not spend as much. However, they might hurt inexperienced buyers who can afford the best the world can offer. We hope that the analyses below that we were paid to perform in the past can help many distinguished shoppers. If you have a need to evaluate a model, we can do it for a very reasonable fee.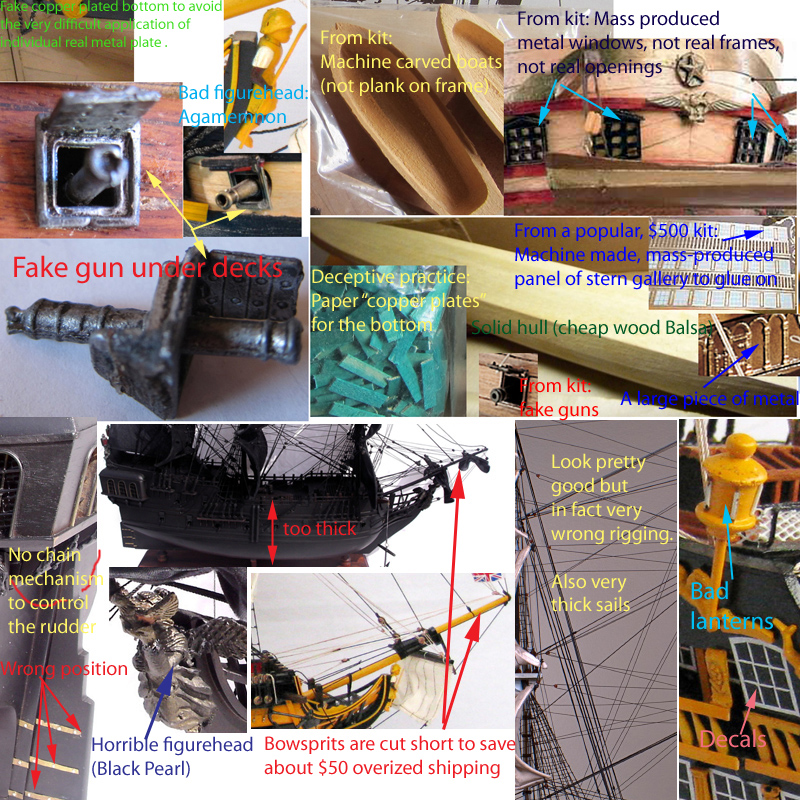 "I'd never happened across your site before and was admiring the photos of your larger version of HMS Victory. Your comments about the garbage a lot of other people sell is spot on. From a photographic standpoint, your model appears to be an excellent representation.
I'm honestly puzzled by the $5700 price, though…I will have in excess of 2000 hours in my Victory of a similar scale which would get the work paid at a rate of a little less than $3 an hour which isn't (in the current vernacular) a living wage. Not that I want to make a living doing model ships since then it wouldn't be a hobby any more. So how can you do that?? ... [We are professional builders who have completed numerous Victory models and need fewer than 400 hrs (a fifth of your time) for a ship.]
I was fortunate enough to be able to tour the JoTika (Caldercraft) plant when I was in England a few months ago and meet all the folks who do the Victory kit they sell and in your web page you commented about some folks who toured your place. I'm planning in being in the Southern California area in the middle of February and would really like to see your facility, assuming you don't mind showing it to a builder rather than a potential customer.
As an additional comment, your Sumner/Gearing models appear to be done with a fine eye toward detail as well…I've done two of the versions of the ship I served on (USS Moale DD 693) in 1:96 - -FRAM II and mid 50's configuration so I know what I'm talking about.