256-bit encryption
$500,000 protection




NOAA RONALD BROWN ship model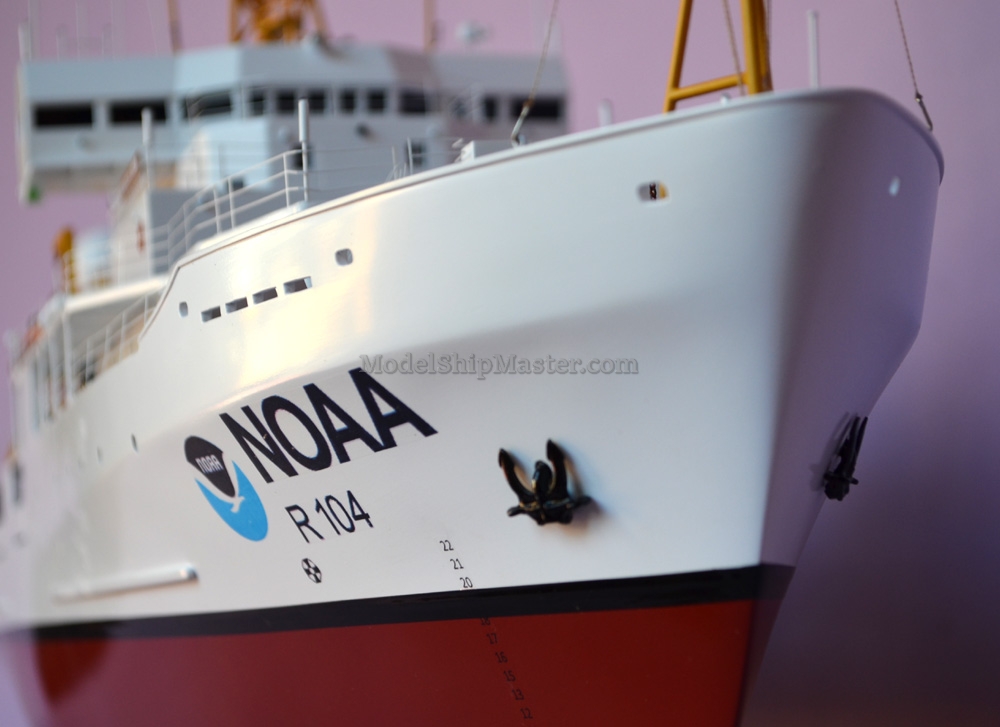 The NOAA Ship Ronald H. Brown (R-104) is a blue-water research vessel of the U.S. National Oceanic and Atmospheric Administration. She is NOAA's only Global Class research ship, also the largest vessel in the NOAA fleet.
With its highly advanced instruments and sensors, Ronald H. Brown travels worldwide supporting scientific studies to increase our understanding of the world's oceans and climate. The hull of the ship is hardened against ice to allow for Arctic and Antarctic research. The ship also includes a 2-bed hospital facility and could accommodate up to 31 scientists.

The deck equipment features three winches, two fixed cranes, a portable crane, a hydrographic boom and an A-frame. This equipment gives the Ronald H. Brown a lifting capacity of up to 42,000 pounds (19,000 kg) as well as up to 33,000 ft (10,000 meters) of cable that can pull up to 8,100 pounds (3,700 kg). One of the winches is specifically for use with specialty cables such as optical fiber cables or coaxial EM Cable.

As a research vessel, a substantial amount of the ship is dedicated to laboratories. Included in the 4,100 square feet (380 m2) of lab space are a computer/electronics lab, a biochemical lab and a wet lab.

In addition to her state-of-the-art oceanographic and atmospheric research platform sampling capabilities, the Ronald H. Brown has instrumentation to study the atmosphere, including a Doppler weather radar for a better understanding of storm dynamics at sea. This combined atmospheric and oceanographic sampling capability makes the ship unique in the world's research fleet. Scientists aboard the vessel study critical environmental issues across the world's oceans.



This 33" long (1/100 scale) NOAA research ship Ronald H. Brown model has the following qualities:

- Scratch built from official plans
- Superior hollow hull construction
- Windows are cutouts, not black decals
- 99% of parts are wooden and metal