256-bit encryption
$500,000 protection



HMS SOVEREIGN of the SEAS
tall ship model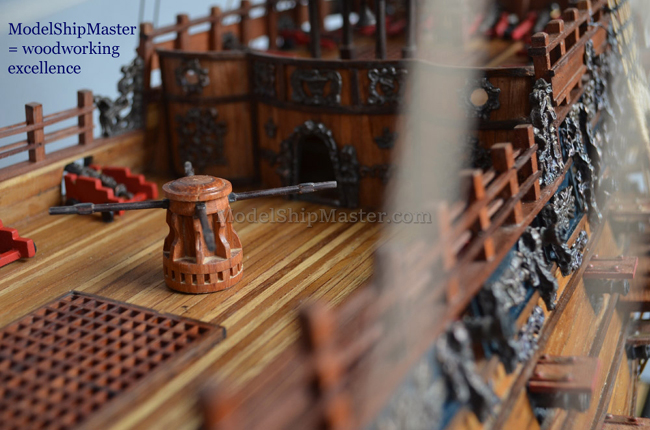 HMS

Sovereign of the Seas was world's first three-decked ship. With a length of 215 feet, and tonnage 1,522 tons, she was far and away the largest and most powerful ship in the world of her time.

Charles I of England gave the order to build her in 1634. Her completion took the labors of over a thousand craftsmen for three years. Two other large vessels, Greyhound and Roebuch, were built of the waste from the building of her.

When the ship was launched in 1637, besides her sizes, the abundance and the value of her ornaments were the most striking features. The designs of the ornaments were by the famous Sir Anthony Van Drych. The ornaments were carried out by the master sculptor of the King, Gerald Christmas.

HMS

Sovereign of the Seas sailed with a crew of 800 men! She fired a broadside of two tons of metal and was known by the name "Golden Devil." In her first naval engagement in 1652, she sank a large Dutch warship with a single broadside!

When Charles I was gone, his successors wanted to strip off rich ornaments of all royal ships. However, the English people protested any one who attempted to touch the HMS Sovereign of the Seas.

In 1695, HMS Sovereign of the Seas was almost 60 years old and the admiralty considered having her scrapped. However, during the night of January 27th of 1696, when the ship was anchored in the port of Chatham, a cook forgot to blow out a candle burning in his quarters. The candle fell over and a short time later Sovereign of the Seas was engulfed in flames from stern to stern. The hull burned down to the water line and what was left sank down to the harbor floor.

For 60 years she ruled the seas, unmatched...


This Sovereign of the Seas model features:
Exquisite woodworking
Sharp statue carvings that no other models in the market can match
Fine deck details
Authentic rigging system comprised of many different sizes of rope
Full length masts, spars, and bowsprit (We never cut them short for the convenience of packing and low cost shipping)
Correct waterline. This is important as a ship will capsize with a waterline that is too low.
44" long x 37" tall x 16" wide $3,900
Quantity is extremely limited
Shipping and handling cost: for shipment in the USA: $220, Canada and Hawaii $390, Europe, Middle East and Africa $450, Australia and East Asia $590. Will be added automatically during the checkout process. Model will arrive in about seven days. Express 2-day service in the USA is also available during the checkout process.
Some photos during the construction: