256-bit encryption
$500,000 protection




USS NORTH DAKOTA
Submarine SSN-784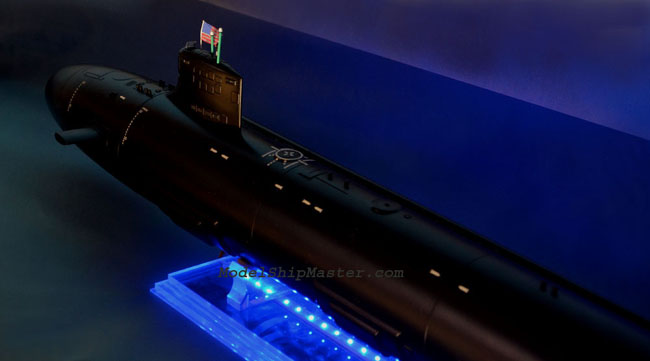 USS North Dakota (SSN-784) is a Virginia-class submarine. This ship is the first of the Block III subs which will feature a revised bow, including some technology from Ohio-class submarine cruise missile submarines. She costs $2.7 billion to build.

USS North Dakota's payload tubes replace the more costly individual Vertical Launch System payload tubes of the past. Unlike the first 10 Virginia Class submarines that housed 12 Tomahawks in individual VLS tubes, North Dakota will use two of the new tubes to house and launch the same number of missiles. The new tubes will provide the North Dakota with greater payload flexibility because it will be able to house a range of weapon payloads that are too big for existing VLS tubes.

"This shows how much cutting-edge technology is being used in the construction of this sub," said Sen. Byron Dorgan, D-N.D.

Over the past few years, Dorgan led an effort for the Navy to name a new North Dakota. He invited Sen. Kent Conrad, Rep. Earl Pomeroy and a number of other distinguished North Dakotans to form the North Dakota Committee, and convinced former Secretary of State Warren Christopher, who was born in North Dakota at Scranton, to be honorary chairman. Last July, that effort paid off.
Until then, North Dakota was one of only five states that had not had more than one ship named after it, despite North Dakota's significant contributions to branches of the U.S. military. The first and only at sea North Dakota (BB-29) was decommissioned in 1923.













This model was built primarily of fiberglass and metal to ensure many years of "service". Very strong, very sturdy, and ready to run out of the box.

Dimensions: 41" long x 4" wide, about 15 lbs. This model has been sold.

Technical information:

- Buhler lifetime warranty motor
- Mtroniks 40 marine Viper ESC, waterproof
- 4x metal gear Corona servos
- High pressure/high flow Aerotech geared peristaltic pump
- E-tx 120 auto depth/leveler
- Programmable failsafe for signal lost
- Programmable failsafe for pump
- Automatic pump command when max depth is achieved (max depth about 10 Feet)
- Programmable V mixer
- Current limiter
- Fuse box 
- All linkages fitted with sealed ball bearings
- 12V 4Ah battery, running time for more than 1.5 hrs
- Graupner computerized 8 ch radio system



"I am interested in pricing for this USS N Dakota model submarine. My contact info is below; I work for the company who manufactured the batteries for this submarine as well as many others.

If you could please contact me ASAP we are looking to possibly use these products at a trade show to help customers understand the application of our battery technology. I would like a quote for the sub as-is on the lighted stand below.

Thank you, S..."