Model Ship Master can repair ship models of ANY TYPE and ANY QUALITY. We can travel to your place (please request at least one week in advance) or you can send your models to our facility in California. For a cost estimate, please send us some photos of your ship model. Services@modelshipmaster.com. Please help us to be efficient and do not call. We really need photos.
In general, for a model ship that has rigging and masts, the minimum cost is $500 if restored at our facility in Southern California. For other types such as model yacht, ocean liner model, container ship model, ect., the minimum is $700. For a repair in Europe, it's minimum $700 for all models.
We can drive up to two hours to make the restoration at your place for $300 extra. For longer distances, please contact us for a quote. Please note that we can't accept all off-site restoration jobs, as we might be focusing on building some model boats at the time of your requests.
It is best that you send your ship model in for restoration. If your ship model is fastened firmly to its base via screws, it will be easy to pack. Just build a simple crate, attach the base of the ship to the crate's bottom with several screws from below (so that the model can't move inside the crate), then fill the box with packing peanuts and you're ready to go. If the boat model is not fastened to its base, it is requiring more work but still fairly manageable and we'll can show you how. If the box is too big for your car, we can schedule a FEDEX pickup for you.
Below are some of our representative restoration jobs.

At the residence of the owner of the luxury cruise liner OCEANIA CRUISES, Miami:
Moving and restoring the Crystal Harmony
(built by a well-known American craftsman J.H. who has been featured regularly by modelshipwrights.com and modelwarships.com):

Second time at CRYSTAL CRUISES, making the Crystal Harmony model more accurate:
We also repair plastic model ships which are very flimsy:
"Sorry for the tardiness in letting you know she has arrived and is beyond gorgeous! My son's face was priceless and he actually thought I had somehow found another ship as he remembered how tragically damaged she was! He's happy that a case is being made since right away my granddaughter (9) wanted to touch it. He was telling his family stories of how he ran around on her as a kid and all the fantastic treats he used to get in the galley etc. No secrecy in shipping the case since he knows it's forthcoming.
Again, THANK YOU!!!
Sincerely, Kate"

And some other representative projects:
"I just want to let you know how thrilled my clients are with their ship. Thank you for taking the time and care in bringing it back to life. Nicole Hitchcock."

"The work you did on my wife's schooner, The Sword Fish, is beautiful! I too love to look at eye level from the stern to imagine the rough conditions under which the model was made. I guess men were really men back then!! Freeman."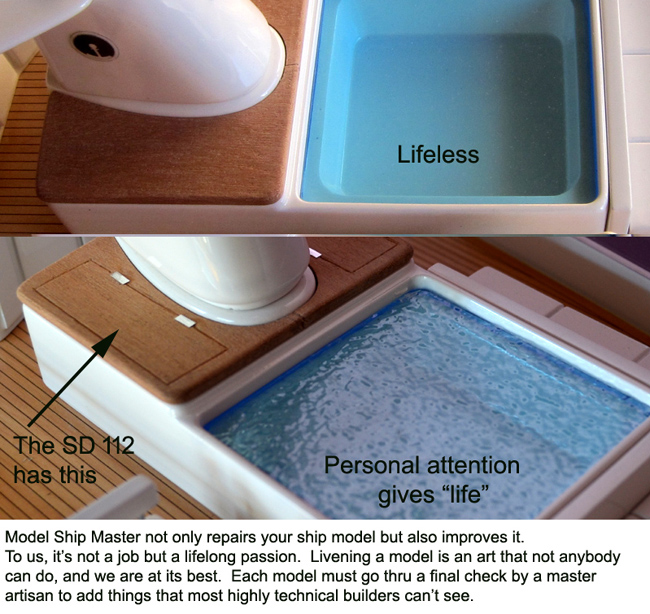 We also accepts jobs to build crates for the most odd-shaped art pieces. We charge only two third of what specialized art movers do but will do a better job as model ships have the oddest shapes and we are extremely successful at packing them.

"I contacted several model ship places in California for a repair and only you accepted it. Before I found you I had dragged myself to a big retailer and disappointed myself after learning that they imported everything and all they could fix was to glue back broken-off parts. More surprise was that another retailer whose web site appeared highly professional did not even have an office and no warehouse! He also knew zip about building ship models (Now I realized that the plastic models that he'd built in his childhood required only gluing.) Anyway, it's a great pleasure to know you guys who will save my sinking ships. Sincerely, Jim P."