BENETTI 125
Motor Yacht model
Benetti puts a great deal of emphasis on the exteriors and the interiors which are based on "Land, Sea and Air" concepts. This means lots of sun-bleached wood, elevated surfaces and paneled interiors over its three decks, along with the inclusion of a Jacuzzi and a fold-down stern complete with swimming deck and a bar.
The hull has features of both displacement and planning hull. This allows the Benetti 125 to operate more efficiently than a displacement hull of the same length. Significant reduction in wave resistance gives better fuel efficiency and increased cruising range. A "Wave Piercer" bow cuts through the water and a hull tunnel to better facilitates water flow over the propellers.
The hull itself is designed to develop the best hull shape for the Rolls-Royce propulsion pod and a lot of work went into making sure that the propulsion pods and the hull are hydrodynamically compatible.
The Rolls Royce Carbon Azipull 65C is an azimuth thruster propulsion system. Instead of a conventional propeller sticking out the stern, the propellers sit in pods sticking down from the hull. Each pod can be steered through 360 degrees, providing optimal maneuverability at high and low speeds and during docking maneuvers – all without the need of a rudder.
The pods are designed with a "twisted" profile for improved hydrodynamic efficiency, and a fin for greater course stability. Specially designed for fast Mediterranean yachts, it's made to be lightweight, highly efficient and with very low noise and vibration levels.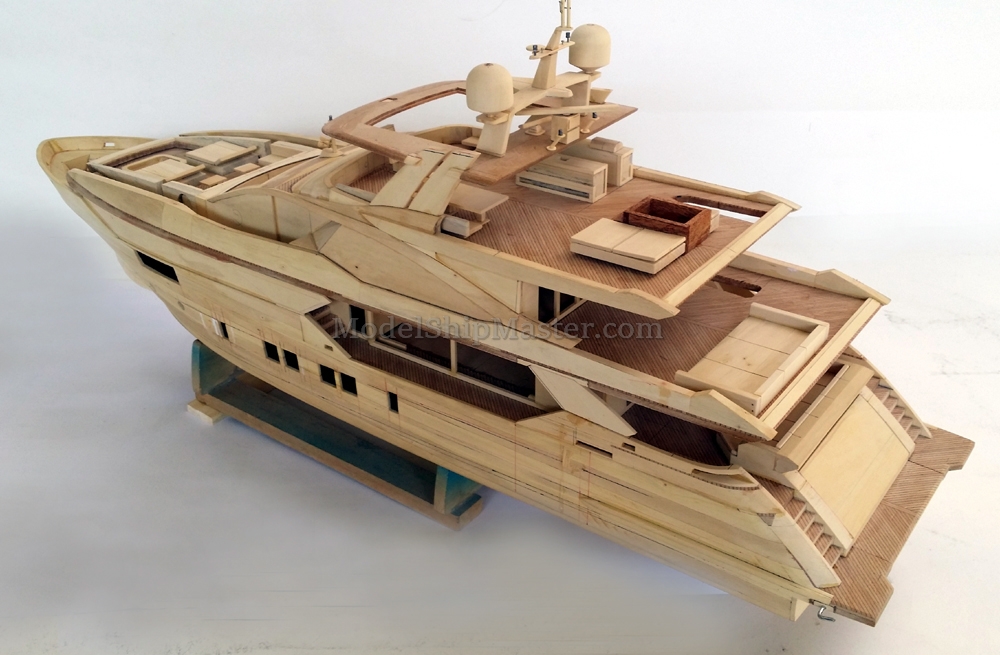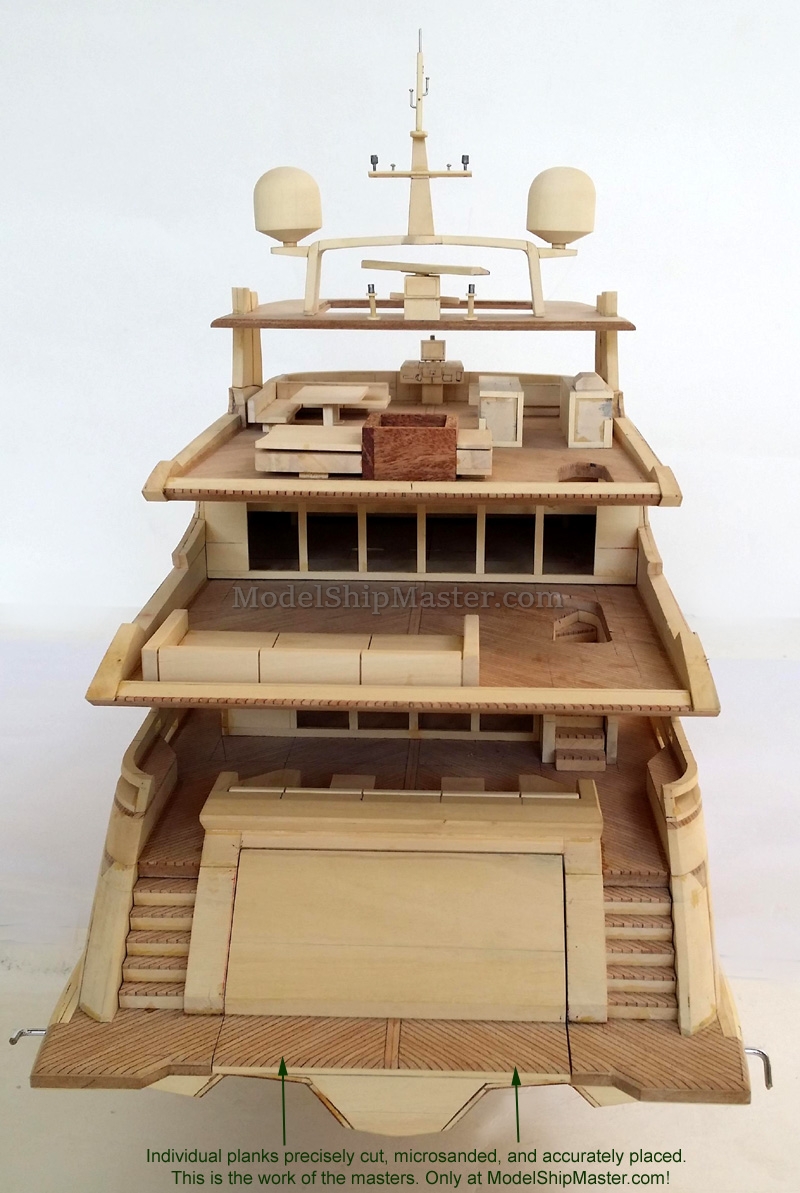 This 30' long Benetti 125 model is a special order and scheduled to completed in April 2017. Like all of our superyacht models, this yacht model has the following qualities:
- Superior hollow hull (very important), hollow hull construction, weighing less than 10 lbs (A solid hull of this model would be over 30 lbs and feel more like a toy rather than an art piece.)

- The hollow superstructure is comprised of many individual thin pieces of wood glued together, not several solid pieces of wood stacking on top one another.

- Windows are cutouts (not black decal which will curl up very soon), thanks to the hollow structures.

- >95% of parts are wood and metal.

Let us build your yacht today by clicking on this link: Custom model yacht