256-bit encryption
$500,000 protection




LADY MOURA superyacht
With a length of 105 m the private superyacht Lady Moura is the result of four years of teamwork between the Italian designer and architect Luigi Sturchio and Blohm + Voss. Both the interior and exterior design was conceived by Luigi Sturchio, whereas Blohm + Voss was responsible for engineering. Costing $210 million to build, Lady Moura is the second most expensive yacht to date, after the massive Dubai which cost $350 to build in 2008.
A crafty hydraulically-operated system of shell ports, doors, flaps, roofs, bath platforms, gangways and cranes provide the most possible ease of operation and comfort. Even the boats, anchors, life rafts and navigation lanterns are hidden behind covers and do not disturb the aesthetics of the yacht. Both the name and the escutcheon that can be seen at port, starboard and at Stern are carved in 24 carat gold.
Lady Moura was pronounced the 11th largest private yacht in the year 2006 (two places after the Pelorus.) Her cruise speed is over 20 knots and maximum speed 36 knots. She is owned by Nasser Al-Rashid, a multi-millionaire businessman in Saudi Arabia.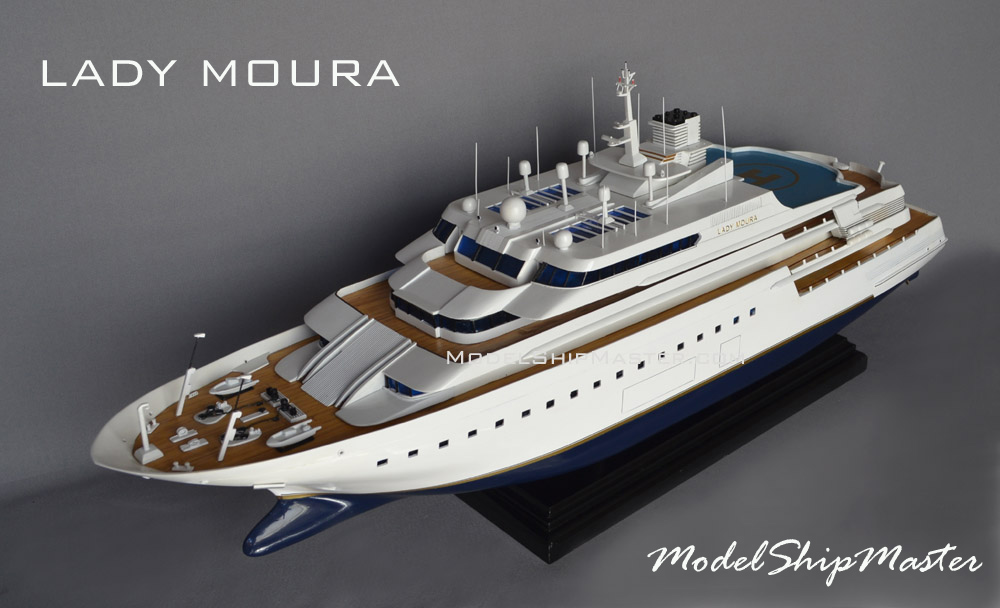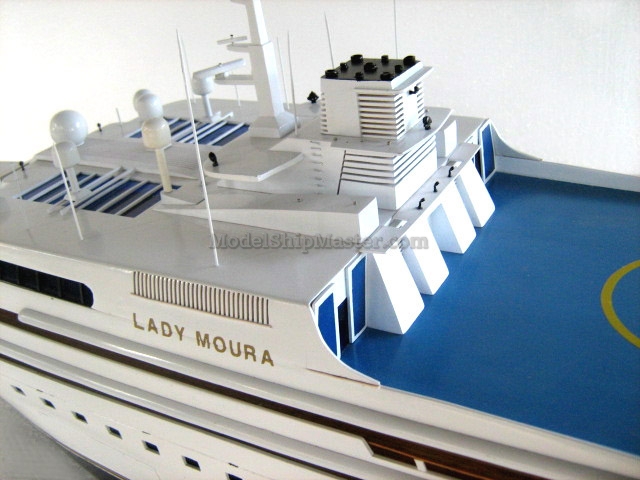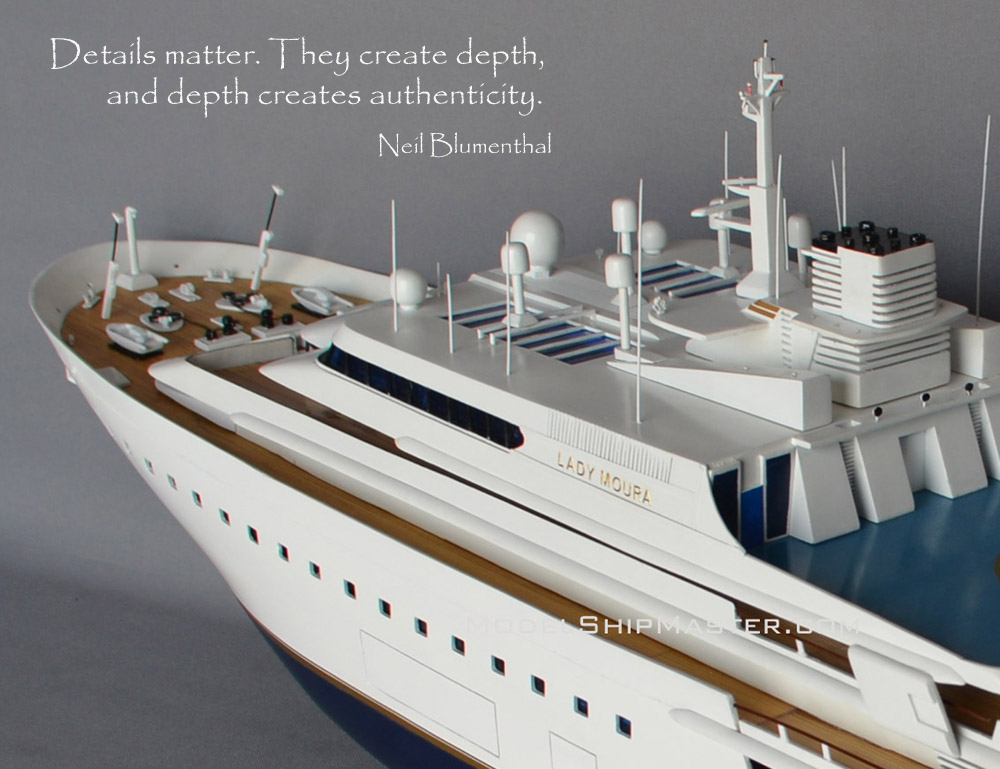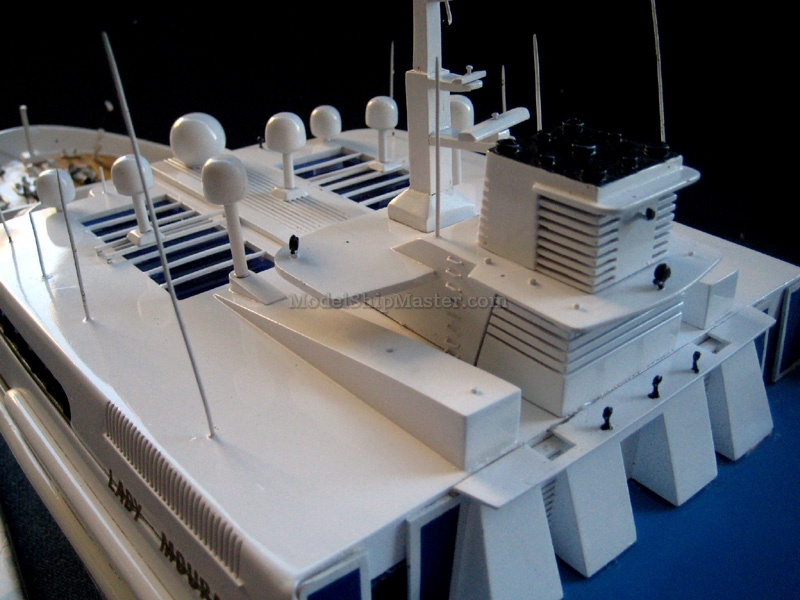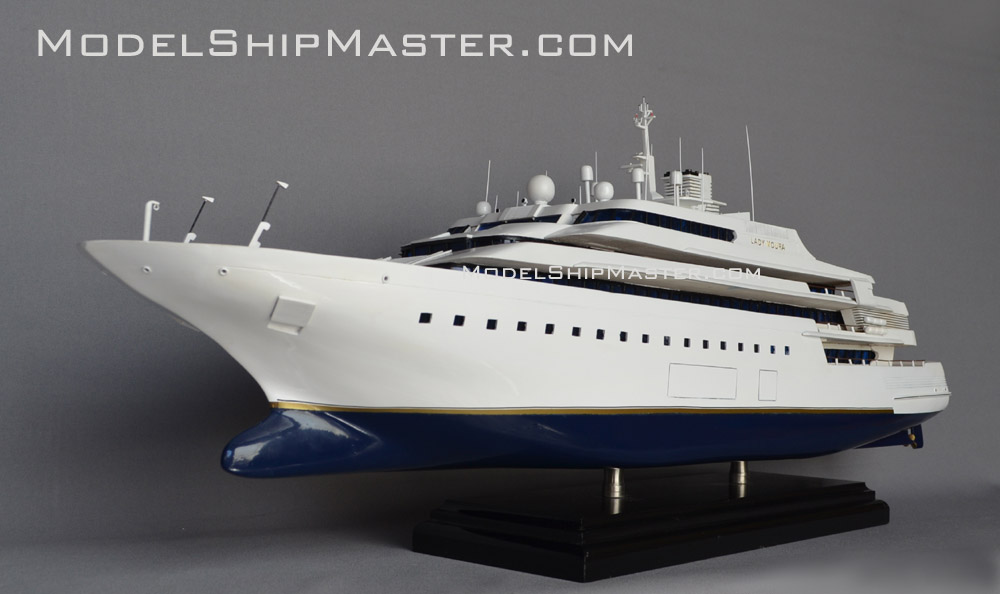 Like all of our superyacht models, this Limitless model has the following qualities:
- Superior hollow hull (very important), weighing less than 10 lbs (A solid hull of this model would be over 40 lbs, requiring 2 people to handle and a fortified table to accommodate.)

- The hollow superstructure is comprised of many individual thin pieces of wood glued together, not several solid pieces of wood stacking on top one another.

- Windows are cutouts (not black decals), thanks to the hollow structures.

- >90% of parts are wood and metal.
36" (91cm) long x 10" wide x 14" tall. $1,900
Shipping and handling cost: for shipment in the USA: $90, Canada and Hawaii $180, Europe, Middle East and Africa $240, Australia and East Asia $310. It will be added automatically during the checkout process. Model will arrive in about seven days. Express 2-day service in the USA is also available during the checkout process.
Let us build your yacht today by clicking on "COMMISSIONING" on the left.