256-bit encryption
$500,000 protection




DISNEY DREAM
cruise ship model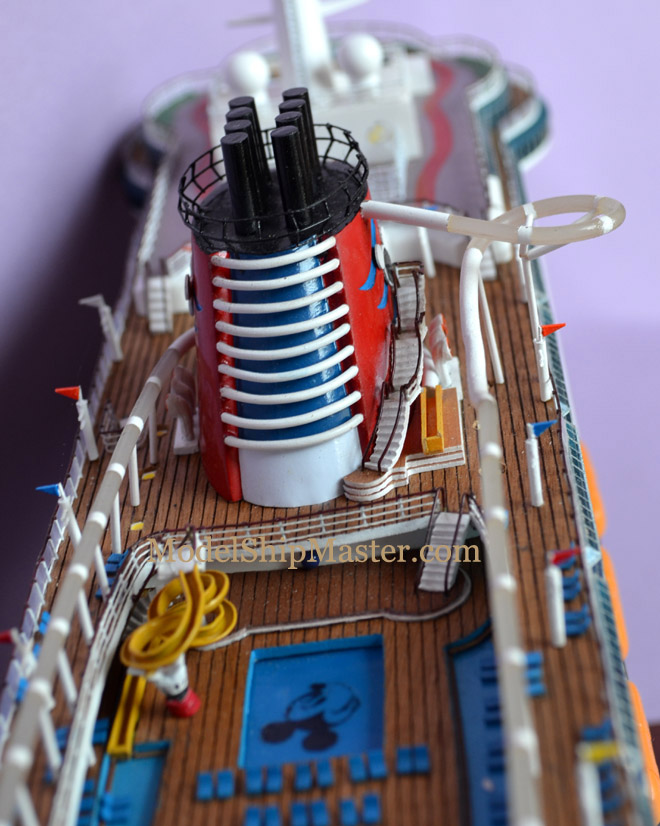 With a length of 1,115' and a width of 137', Disney Dream is 40% larger than its two older fleet-mates, the Disney Magic and the Disney Wonder. She has 1,250 staterooms, carries a maximum of 4,000 passengers, and a crew of 1,458.
Entered service in 2011, Disney Dream features the first water coaster at sea, called "The AquaDuck", a 765-foot long winding waterslide with a four-deck drop and a course that winds 13 feet over the edge of the ship and through the ship's forward funnel. The AquaDuck runs the width of the ship and the length between the funnels, almost the size of a football field.
Other water activities include a Mickey's Slide and 3 pools. The adult-only, Quiet Cove Pool, includes a series of connecting pools with depths ranging from 4 ft to 6 inch sun-bathing pools with a bar at the end of the 6 inch deep "pool".

Disney Dream's horn plays songs from Disney movies and parks, specifically: "When You Wish Upon a Star" (Pinocchio), "A Dream is a Wish Your Heart Makes" (Cinderella), "Be Our Guest" (Beauty and the Beast), "Yo Ho (A Pirate's Life for Me)" (Pirates of the Caribbean), "Hi-Diddle-Dee-Dee (An Actor's Life for Me)" (Pinocchio), and "It's a Small World".
For sport, Disney Dream has a 9 hole mini-golf course, a walking track, digital sports simulators, a full-sized basketball court that can be converted for use as a soccer pitch, a volleyball court, and a table tennis area. There are also two smaller sport courts and two lounges for younger children.
Disney Dream has multiple dining venues, including three themed main dining restaurants, two adult-only specialty restaurants, a buffet, and multiple bars, lounges, and quick service stations. Every night of a Disney Dream cruise, guests use a different restaurant. The adult-only restaurants on the Disney Dream, Palo and Remy, are available for guests ages 18+ at an additional cost. Palo, like on other Disney ships, serves a Northern Italian cuisine. Remy, inspired by Disney's Ratatouille, serves French-inspired cuisine. A lounge, Meridian, is a place for adults to go before or after their dinner.

For children, the Oceaneer Club is a play area for children aged 3 to 12 years old. This club has four themed play areas. The Edge, is a play area for those aged 11 to 13. In this area, children can participate in chroma key presentations, where, among other activities, they can pretend to be part of films and television shows from Disney and ABC. The Vibe, a special club designed for 14- to 17-year-olds include video games, disc jockeying, and relaxation on a sundeck reserved just for them. Vibe's sundeck includes two pools, table tennis and a smoothie bar.

The Disney Dreamcurrently sails three and four-day cruises to the Bahamas. Her sister ship,Disney Fantasy, was deployed in 2012.

This 36" long Disney Dream model was scratch-built, has a hollow hull (very important.) If you can want for about four months for this ship model or any other Disney cruise ships, please click on this link and let us know: Commissioning a model ship. This Disney Dream model is $3,500 plus shipping and we need a commitment deposit of $350 to start the construction process that lasts 3-4 months. Thank you.
"Excellent model. So small yet full of tiny details. We saw another model from a different maker online and it was horrible, with massive, way oversized funnels and too tall superstructure, too few rooms/balcony. The stern was so wrong, with the part above it protruding out like a monster. Lucky my wife found you. How much please? We can spend an equivalence of 4 vacation DD tickets for it. You gentlemen are a huge credit to the world wide web..."