256-bit encryption
$500,000 protection




SS CANADIANA

The SS Canadiana was a passenger ferry that primarily operated between Buffalo, New York and the Crystal Beach Amusement Park at Crystal Beach, Ontario, Canada from 1910 to 1956.
Although the Canadiana was popularly known as "The Crystal Beach Boat", she would occasionally make journeys to other destinations including Port Colborne, Ontario. Nevertheless, Crystal Beach remained its primary destination.
After being sold in 1956 the Canadiana changed owners numerous times and by 1983 she was berthed in Ohio needing major restoration. A nonprofit group, the "Friends of the Canadiana", brought the ship back to Buffalo in 1984 with a hope of restoring her to service. When restoration efforts failed the ship was scrapped at Port Colborne, Ontario in 2004.
The Canadiana was also noted for being the last passenger vessel to be built in Buffalo, New York.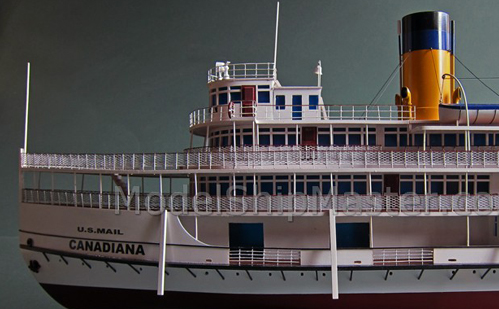 This SS Canadiana model features:
- Plank-on-frame, hollow hull construction (very important), weighing less than 10 lbs (A solid hull of this model would be over 30 lbs which feels like a heavy toy rather than an art piece.)

- Hollow superstructure is comprised of many individual thin pieces of wood glued together, not several solid pieces of wood stacking on top one another

- Windows are cutouts (not black decals), thanks to the hollow structures
- No computer-printed paper deck

- >95% of parts are wood and metal
36" L x 14" T x 8" W. Commissioned model and not for sale.
Email a friend: