256-bit encryption
$500,000 protection





HMS ROYAL SOVEREIGN 1786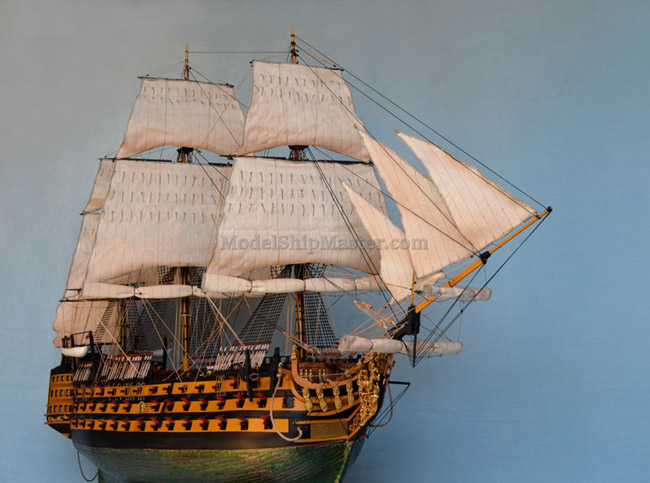 HMS Royal Sovereign was a 100-gun first rate ship of the line. She was best remembered as the flagship of Admiral Collingwood at the Battle of Trafalgar. Royal Sovereign led one column of warships while HMS Victory led the other.
HMS Royal Sovereign took the honor of the first ship of the fleet in action at Trafalgar on 21 October 1805. She was a considerably faster ship and pulled well ahead of the rest of the fleet.
Because the winds were very light during the battle, all the ships were moving very slowly, Royal Sovereign suffered heavy fire from Fougueux, Indomptable, San Justo, and San Leandro for almost an hour.
Just before his column engaged the allied forces, Collingwood said to his officers: "Now, gentlemen, let us do something today which the world may talk of hereafter."
As she cut the enemy line and engaged the Santa Ana, Nelson pointed to her and said, "See how that noble fellow Collingwood carries his ship into action!" At the same time, Collingwood said to his captain, "What would Nelson give to be here?
Breaking the line just astern of the Santa Ana, Royal Sovereign fired a devastating double-shot raking broadside. She and Santa Ana dueled for much of the battle, with Santa Ana taking fire from fresh British ships passing through the line, while nearby French and Spanish vessels fired on Royal Sovereign. Santa Ana struck at 2:15pm, having suffered casualties numbering 238 dead and wounded. Royal Sovereign lost her mizzen and mainmasts, her foremast was badly damaged and much of her rigging was shot away.
At 3pm Collingwood signaled for the frigate Euryalus to take Royal Sovereign in tow. She was towed round to have her port-side guns fired in support of the rest of the British ships. Eventually she engaged with an enemy's combined fleet which was coming about to support the collapsing centre. Fire from the hostile lead ships shot away the cable between the Royal Sovereign and the Euryalus. While Euryalus made off towards HMS Victory, Royal Sovereign bravely solely exchanged fire with the arriving ships, until Collingwood managed to rally several British ships around Royal Sovereign to dissuade the enemy further attempt to recover some of the prizes. HMS Royal Sovereign get out of harm's way at 4:30pm.

At 4:40pm one of Victory'​s boats came alongside Royal Sovereign and reported Nelson's death to Collingwood. This made him in command of the fleet. With a storm rising, and disregarding Nelson's final order to bring the fleet to anchor, Collingwood ordered all ships to sail, and to take disabled and captured ships in tow.
Royal Sovereign by now had most of her masts shot away that she could not even make signals. So Collingwood transferred himself and his flag to the frigate Euryalus, while Euryalus took Royal Sovereign in tow for second time. HMS Neptune took over the tow on October 22th then HMS Mars a day after.

After 55 long years in faithful service, on August 28th, 1841, the HMS Royal Sovereign (now named Captain) was finally broken up at Plymouth. Four of her guns were saved for the Collingwood Memorial in Tynemouth.
This model of the HMS Royal Sovereign was built for a distinguished Trafalgar collector. Work commenced in Sept. 2014 and ended in March, 2015. Dimensions: 43" x 33" x 13". To commission a similar one or any tall ship model, please email us an inquiry.