256-bit encryption
$500,000 protection





CANIM
1930

When the motor yacht Canim steamed into Philbrook's Boatyard on her return from an Alaskan cruise, the owner had an irresistible proposition for the Philbrook's craftsmen: restore the classic masterpiece of 96 feet, to the original splendor designer Ted Geary had first envisioned.
The task was to strip away the existing facade and restore Canim's original elegance, while also equipping her with 21st century technology.
Upon completion, Philbrook's tradition of a big family celebration honoring the yacht was held to celebrate the yard's role in helping her reclaim her soul.
Designed by Ted Geary as one of eight ships in her class in 1928-1930, all of which are still in service. Canim was built at Lake Union Drydocks, Seattle, WA., in 1930 for Col. A.J. Blethen as a private yacht.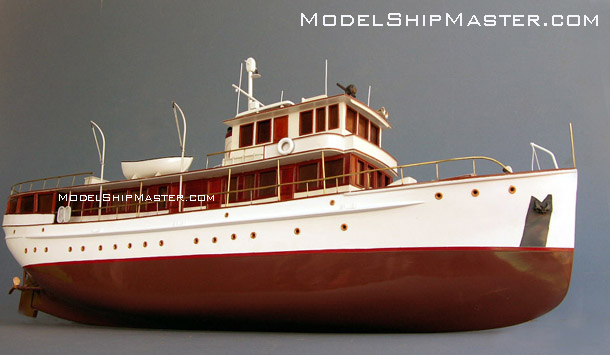 This Canim yacht model features:

- Scratch-built

- Plank-on-frame construction (very important).

- Heartwood Honduras Mahogany. This best mahogany type is used by real boat builders.

36"long x 17" tall x 7" wide $2,500
S & H is $90 Sold
If you can wait for about 3 months, we can make another model for you. Just email us at services@modelshipmaster.com. Note that sold-out items' prices are additional 10%.