256-bit encryption
$500,000 protection




CLASSIC YACHT MODELS


Corsair

The Yacht Corsair was built in 1890 for J.P. Morgan, the internationally famous financier. J.P. Morgan was the head of the International Mercantile Marine Co., that had in its large Atlantic shipping fleet, the White Star Line and, of course, Titanic.



Click for more info
Aphrodite

Aphrodite was built by the Purdy Boat Company and launched in May, 1937. Aphrodite's guest list included Fred Astaire, Sir Laurence Olivier, Spencer Tracy, Katherine Hepburn, Henry Ford II, Nelson Rockefeller... Shirley Temple had her birthday's party aboard Aphrodite.



Click for more info

Elco 57'
1939

A famous wooden yacht built in the 1930s. Only 7 were ever built.


Click for more info
USS Sequoia

104' Trumpy boat. Contract number 174. Built in 1925 for Richard Cadwalader, Jr. Official U.S. presidential yacht from 1933 to 1977. USS Sequoia served U.S. Presidents from Hoover to Bush.



Click for more info

Canim



Designed by Ted Geary as one of eight ships in her class in 1928-1930, all of which are still in service. Canim was built at Lake Union Drydocks, Seattle, WA., in 1930 for Col. A.J. Blethen as a private yacht.



Click for more info

HMY Britannia

Britannia was launched by Queen Elizabeth II on 16 April 1953 and commissioned on 11 January 1954. During her career as Royal Yacht, she conveyed the Queen, other members of the Royal Family, and various dignitaries on 696 foreign visits and 272 visits in British waters. Prince Charles and Princess Diana took a honeymoon cruise aboard Britannia in 1981.



Click for more info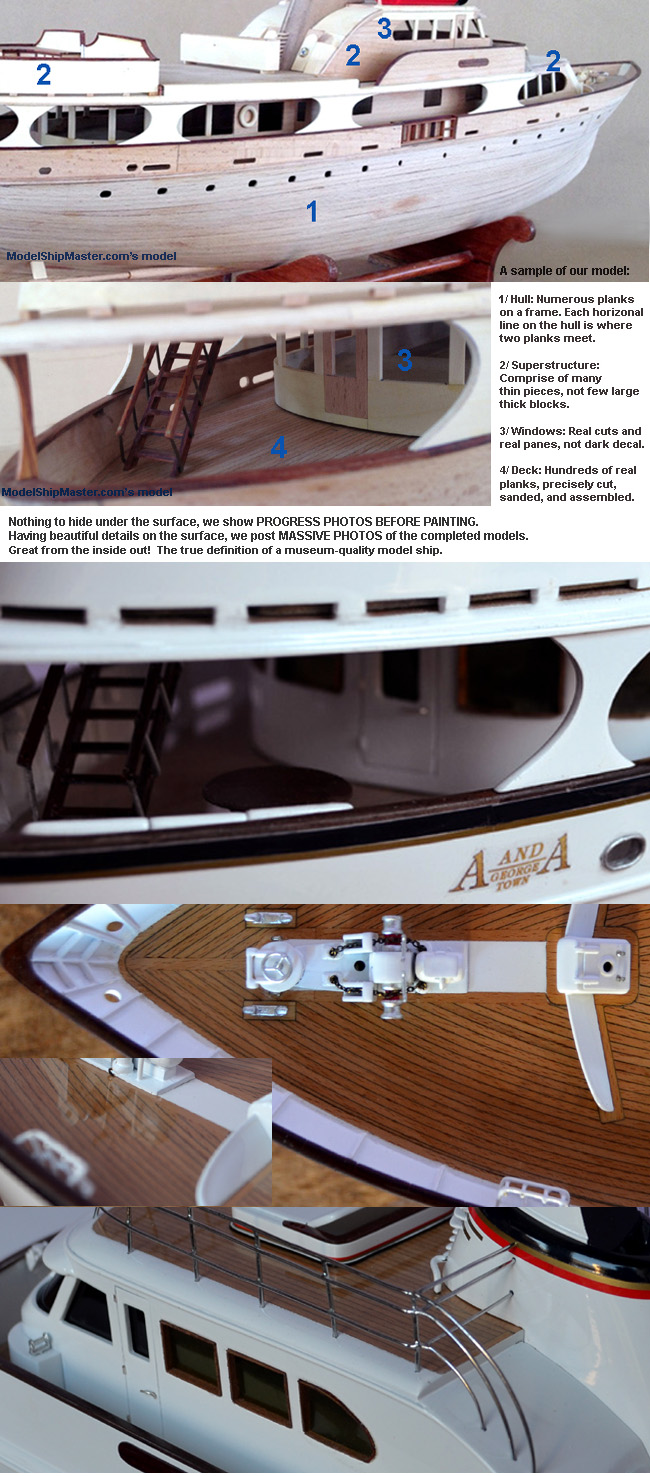 "Received your email to order REX. Price 2,300 plus $90shipping. Interested in lighting option for $200 extra all I need someone to contact me for order. My # 917 841 xxxx you can call anytime. I have ordered models from Motion Models and SD Model Makers wish I would have found you sooner. Anthony L."

"Love the REX. I would like to commission for your company to build this ship for me. I immigrated to America on this ship in 1952... I'm asking for a length of 42" and obviously as much detail as possible. This is very important to me. Can you get back to me at your convenience also I would want it built to scale. Thank much. Anthony L."