A&A
motor yacht model



A&A yacht has three decks made from teak. A&A is equipped with an ultra-modern stabilization system which reduces roll motion effect and results in a smoother more enjoyable cruising experience. "Mr. Safa [the owner of the real yacht] loves his A&A model and proudly shows it to other people."


Click for more info

YAS


The 141m superyacht Swift141, christened 'Yas', was launched by ADMShipyards in November 2011. Yas was styled inside and out by Pierrejean Design in Paris, with a strikingly graceful exterior of fluid curves and volumes, and a spectacular structural covering of glass. "I love both models as you are really an excellent craftsman... The more I look at the models I realize you went to great effort in details which on model scale is almost impossible to accomplish. Kind regards and thanks again for a beautiful model. I just love looking at it. "


Click for more info

Motor yacht A

The Wall Street Journal's Robert Frank was initially an outspoken critic, calling A "one of the ghastliest mega yachts ever created." However, in a follow-up blog several months later, he confessed: "I've gained a bit more respect for it. Technically, it's impressive: Because of her inverted bow, the boat barely makes a splash in the front when it's speeding along at 24 knots. And it's different in a way few yachts are... A gets a tip of the hat for taking a risk and being different."


Click for more info
.

Azzam

Satisfied with VAVA II, the owner came back three months later to commission the 180 meter Azzam which was just launched in October, 2013. Watch ModelShipMaster at work again by visiting this page every month for fresh progress photos of this massive 60" long model.


Click for more info

Maltese Falcon

The superyacht Maltese Falcon is the fastest personal boat on earth. She is also the world's biggest boat that can actually be sailed by one person. The 87.5-meter yacht has three masts which rotate depending on the wind direction. It took five years in development to create this unique vessel. Maltese Falcon was delivered in 2006 and cost $100 million. The sails alone costs $5 million!

Click for more info


Benetti Mediterraneo 116 superyacht

The Mediterraneo 116's exterior design is sleek, slender and decks are designed to flow seamlessly. The

20'

cockpit is notably wide, and crystal, 10' tall doors open into the main saloon. The interior space is designed for entertaining up to 12 guests. She can reach a top speed of 15 knots powered and have a cruising range of 3,000 nautical miles.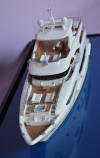 Click for more info

Benetti 125
Vivace


The hull has aspects of both a displacement and planning hull, which allows it to significant reduce in wave resistance, which results in higher speed, better fuel efficiency and increased cruising range. "Land, Sea and Air" concept means lots of sun-bleached wood, elevated surfaces and paneled interiors over its three decks, along with the inclusion of a Jacuzzi and a fold-down stern complete with swimming deck and a bar.


Click for more info

Benetti Classic 115



This model is being built for its owner. 5' long (152 cm.) If you are interested the superior method that we use to construct model ships, come back every couple weeks to view progress photos. Nobody show progress photos publicly like we do. Something to hide?

Click for more info

Meridian 408


The Meridian 408 appears to be a lot larger than 40 feet. It has an integrated bow and stern thruster design that was easy to use and will simplify the docking job. One of the first things you notice on the bridge is how quiet her engines are when running. The gauges were the only indication she was ready to roll.

Click for more info

Meridian 541


The Meridian 541 is the new flagship of the builder's line of sedans. The 541 is the only three-stateroom model in the lineup. The design is to create social gathering points. This carries through to the salon on the main deck, raised up from the galley and dinette. The twin 715-horsepower Cummins diesels powered the 541 to more than 30 knots.


Click for more info

Aston Martin AM37


The AM37 S — can race up to 50 knots by a pair of 520 horsepower Mercury engines and costs roughly $2.1 million. The powerboat was in the works for two years and marks Aston Martin's first foray into the boating industry. Aston Martin chief creative officer Marek Reichman said "AM37 is a pure translation of the Aston Martin DNA into an entirely new maritime concept... The AM37 is a striking boat with fantastic proportion and elegance." Aston Martin plans to construct no more than 10 boats per year.


Click for more info

Midnight Express 60'


This Midnight Express 60' Pied-a-Mer (Foot-of-Sea) 36" long model was commissioned by Midnight Express Powerboats to display at Fort Lauderdale International Boat Show on Nov 3-Nov 7, 2016.


Click for more info

OURANOS


The 164-foot Ouranos is the first yacht in Admiral's new C Force 50 series which has light-filled interiors thanks to its huge glazing, glass bulwarks and vertical windows along the main-deck master suite. Full panoramic headroom windows run between the main and upper decks, allowing more natural light into the yacht's two saloons. The exterior by Uniellè Yacht Design has a bold, geometric feel, establishing a new luxury idea, made of purity and linearity. An open beach-club terrace, a huge sun pad, and a sundeck hot tub ensure guests are never far from more pampering. Ouranos holds the prestigious honor of having the lowest noise and vibration levels of any yacht ever certified by RINA Services.


Constructing now.
36" (91.5 cm) long.
Completion date: Summer 2017.

Steve Wynn's yacht Aquarius

Superyacht Aquarius features a resolutely contemporary exterior design with a number of archetypal Feadship elements, such as a conventional bow and raked superstructure shape. One of the best features is a bar and lounge area at sea level which is located under the glass bottom pool. Two years of intense design work brings a superyacht that represents a perfect marriage of interior and exterior, and seamless integration with the sea. Aquarius can accommodate 12 guests in 6 staterooms or suites. The owner's upper deck suite is joined by and 5 VIP staterooms forward on the main deck.


36.2" (92 cm) long.


Sea Ray Sundancer 470

The 470 Sundancer is designed for maximum comfort so that you can make your own adventure with wonderful amenities like in a home.
Click for more info

Sunseeker Manhattan 64


Performance hulls designed by Don Shead, a naval architect, engineer and designer with a passion for high-speed, high-styled boats, the Sunseeker Manhattan 64 flaunt an air of sophistication and individualism. It is more avant garde than some other UK marques: Some reverse sheer, big elliptical windows and lots of rakish lines reminiscent of an Italian-designed motoryacht.


Click for more info

Barchetta 157



Built in 2006 in the United States, Barchetta is a Christensen yacht with a sophisticated exterior design. Barchetta is able to achieve a top speed of 17 knots. She has a range of 4300nm at a cruising speed of 15 knots. She can accommodate 12 guests and 9 crew members. This model of the yacht Barchetta measures 3' long.



Click for more info

Princess Mariana


The superyacht Princess Mariana is owned by Carlos Peralta, multi-billionaire head of a Mexican construction and electric component parts company. The yacht was ordered in 2002 in the yacht-yard Danyard A/S Frederikshavn, Denmarkand. Only one year later Princess Mariana was finished. The price was 125 millions EUR. This superyacht replica is 4 feet long.


Click for more info

Offshore Sedan 48


The Offshore 48 designed by William Crealock is is well known for its quality and ability to handle well in tough sea conditions. The distinctive sedan that places priority is placed on outdoor recreation as her generous deck areas suggest. Not only are the walkarounds wide and the cockpit spacious but the flybridge dimensions are extremely generous for a 48-footer.


Click for more info
Horizon 80

"We have unpacked the model and it is in perfect condition. We are very impressed with your workmanship, the quality and the attention to detail. Thank you for creating such a magnificent replica of our beautiful yacht, and having it completed and shipped within the tight timeframe. Once we have the acrylic top made up, we will take some photos and send to you. We will probably have the display case made from 6mm (1/4") acrylic."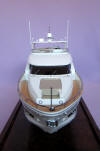 Click for more info

Indian Empress


Indian Empress is one of the larger private yachts in the world at 95 metres (311 feet 8 inches) in length and is owned by Indian Liquor Billionaire Dr. Vijay Mallya. The yacht was previously owned by the Qatari Royal Family. This 24" long model yacht was commissioned in 2015 as an executive gift.

Click for more info

World Cat
266 sc


The World Cat 266 sc has the distinct sheer of a classic offshore center-console and can handle weather that only much larger boats could handle and do it in perfect comfort and safety.


Click for more info
C&C 115 Raceboat

The C&C 115 was Sailing World's 2006 Boat of the Year Overall Winner and Best Racer/Cruiser. According to the magazine, the C&C 115 had an excellent balance between racing and cruising.

Click for more info
Grady White 360 express

One of the most successful boatbuilding companies in the world, Grady-White has a legendary reputation for designing and producing superbly engineered power sportfishing boat.

Click for more info
Cabo Express
sportfishing boat

Click for more info
Viking sportfishing yacht 82

Continuous development with innovative details is the hallmark of a leading edge of Viking sport fishing boats. By manufacturing most of the yacht's components in house, Viking is able to pay attention to details that ensure greater reliability, safety and customer satisfaction. Many would say that Vikings are the epitome of luxury and seagoing excellence.


Click for more info
Viking Enclosed Bridge Sport Fishing yacht

Continuous development with innovative details is the hallmark of a leading edge of Viking sport fishing boats. By manufacturing most of the yacht's components in house, Viking is able to pay attention to details that ensure greater reliability, safety and customer satisfaction. Many would say that Vikings are the epitome of luxury and seagoing excellence.


Click for more info

Azimut 55s


This new addition to the Italian builder won several international design awards sports with its bold styling, from the futuristic windows to the snub-nosed bow with an ax-blade edge. This sport yacht should make 36 knots and cruise between 22 and 30 knots.

Click for more info

Meridian 541


The 541 Sedan is the first Meridian to come standard with Zeus, one of the most technically advanced propulsion systems in the world. At nearly 54 feet in length the 541, the Zeus pod drives give a feel of effortlessly maneuverable and intuitive to control. The aft cockpit blends seamlessly with the adjacent galley, while the flybridge with optional full-cover hardtop can provide seating, refreshments and entertainment for the whole crew.


Being built

Benetti Classic 115
PARADIGM



Designed by François Zuretti, the 'Benetti Classic 115' charter yacht is the most stylish model in this series. First introduced in 1998, their definitive lines and fabulous interiors highlight Benetti's timeless style, while containing all the amenities of a 130 foot charter yacht. The Benetti Classic 115 offers luxurious accommodation for up to 10 charter guests. Key features include a sun deck, heated whirlpool and a semi-enclosed lounge area, and the main deck encompasses a large salon and dining room, separated by a bar. A novelty for a yacht of this size is the sky lounge, containing a bar and day head.


Being built

VANTAGE
yacht

In 2011, the fashion designer showed off his sophisticated yacht to full effect. Calvin Klein's party onboard Vantage superyacht on the opening night of the 2011 Cannes Film Festival drew plenty of high-flying celebrities and some of the richest people of the film world. Vantage is a terrific toy for Calvin Klein.



We want to build this yacht model and wish to see your interest.

MAYBE


The new 59 meter by shipbuilder Metalships Rodman is the largest yacht ever designed and built in Spain. Maybe has a range of 5,000 nautical miles and a helipad on the upper deck. There's plenty of luxury onboard with the Marcelo Penna interiors featuring a gym, massage room, sauna and cinema saloon.


Be the first to own the first largest yacht built by a Spanish shipyard.

IPANEMA

The all-aluminum yacht Ipanema steeply raked stern generates a forward visual thrust for the superstructure, while the full-height windows that run along most of the length of the main deck allows a constant dialogue with the exterior. The interiors feature classical styling cues that draw on Italian, English and French traditions, with columns, pilasters, carved lintels, friezes and bas-reliefs. On board there are more than a dozen different types of marble, as well as onyx, mahogany and briar, which are used to create 37 different design motifs.


Plan an unique gift for the special occasion now. This yacht takes about three months to complete.


SARA STAR


Silver and sporty, Sara Star is Mondomarine's first 60 metre and its new flagship. She marks the first in a new series of fast, innovative yachts from the Italian builder. This all-aluminum yacht runs at a top speed of 21 knots.


We'd love to make this model yacht for your special gift purposes.


VENUS



Venus is a super yacht designed by Philippe Starck's design company Ubik and built by Feadship for the entrepreneur Steve Jobs. However, Jobs died in October 2011, the yacht was unveiled a year later at a cost of more than €100 million.




Contact us for this unique yacht model.
x 460EXP

The Explorer is a new kind of superyacht, characterized by high technology and comfort on board, and, most of all, significant cruising self-sufficiency and endurance. It is perfect for owners who are fascinated by exploration, adventures and, at the same time, care for design, refinement and details.


This superyacht would be a very unique gift for a special person.


The following model yachts were produced before 2014 which is the year we started focusing on extremely high quality models that has many features and details that other builders can match. There are many more but it might be too lengthy too list. THESE ARE BEING OFFERED AT MUCH LOWER PRICES. Only 1 or 2 of each are available.


Octopus



Octopus, currently the world's sixth largest superyacht and the second largest not owned by a head of state. Octopus was delivered in 2003 to Paul Allen, co-founder of Microsoft. Paul Allen keeps the yacht busy and Octopus shows up every where.



Click for more info
Available

Fleming 55


The Fleming 55 is designed for serious cruising. Fleming's deep keel provides stability in the rough seas. Noise and vibration contribute to fatigue and Fleming has paid special attention to producing a boat which has become the standard in the industry for quietness and smooth running.


Click for more info

Pelorus



Pelorus is probably the most spectacular yacht ever built. It has the most sophisticated exterior look, that gives its cutting edge characteristics. Pelorus has bulletproof glass, a missile detection system, two helicopters, and a submarine. The yacht in the movie Superman Returns was patterned after Pelorus.



Click for more info
Available
Lazy Z

This motor yacht model is a miniature of the Lazy Z features an innovative interior with her layout and entertaining spaces having being designed to seat up to 12 charter guests comfortably and in both luxury and style. As well a formal dinning she is also able to provide more casual entertaining events.

Click for more info
Lady Moura



The renowned superyacht is often seen moored in Monte-Carlo. She is also large she cannot enter the town harbor and must moor alongside the port wall. She carries a crew of 60, and incorporates features such as a beach resort complete with sand, a large pool with a retractable roof, and a 75ft dining table custom-made by Viscount Linley.



Click for more info
Available


Mangusta
108


Built by the Overmarine Shipyard Italy, the Mangusta 108 Yacht can skim the waves at dizzying 40 knots. Charter rate is 100,000 Euro/week.


Click for more info
Available

Sea Cloud

The superyacht Sea Cloud's life story is more thrilling than some novels. She was built in 1931 in Kiel at the request of a Wall Street broker. It was his wife, Lady Marjorie Post, who shaped the Sea Cloud's character. She had exquisite taste: Only the best was good enough for her. She loved golden bath fixtures, Carrara marble, precious woods, solid brass and antique furniture.

Click for more info


Limitless



The mega yacht Limitless was one of the worst-kept secrets while under construction. One of the many no-compromise features was a 25-knot speed; Anything less would mean that the yard would end up owning the boat. Show Boats International in 1998 awarded Limitless as the Most Innovative Motor Yacht.



Click for more info


MY VAVA II


Measuring 96m (314.96ft) yacht VAVA II is the largest privately owned yacht ever to be built in the UK and is 33rd largest yacht in the world. She is also one of the most technologically advanced and stylish yachts in the world with exterior styling by Redman Whitely Dixon and interior design by Remi Tessier.


Click for more info
Codene
exploration yacht

Luxury motor yacht Codene is a 35 meter (115 ft) research/expedition vessel built in Australia in 2004. She has been designed to cope in demanding environments and is the ideal yacht to explore the world's oceans. This specialized dive yacht is equally suited to a relaxing cruise in exotic locations.


Click for more info

Cranchi 40ST


Cranchi M 40 SOFT TOP is a much featured boat, with a very aggressive and slender line. There are 2 bedrooms and a large dining area which if necessary can be turned into a double bed. Two bathrooms with shower, a large and fully equipped galley. The cockpit offers a large dinette with dining table, chaise lounge and a variety of seating and a functional bar.

Click for more info

Astondoa 76 GLX


The Astondoa 76 has been achieving successes since its presentation at the past Genoa boat show. A good usage of the spaces and an interior design created by the Italian Cristiano Gatto make this yacht one of the amplest and most attractive ones of its type.


Click for more info

Ultima Novia


The luxury yacht Ultima Novia is a 140 foot sailing yacht created at Sensation Yachts New Zealand in 1994. The vessel naval architect design work was made by Sparkman & Stephens. John Munford is the designer for the interior ambiance. Ultima Novia was previously registered as Sariyah and then Bella Chica. She can sleep as many as 7 guests on board and has a total of 6 crew.


Click for more info