256-bit encryption
$500,000 protection




SS ILE DE FRANCE
Ocean Liner model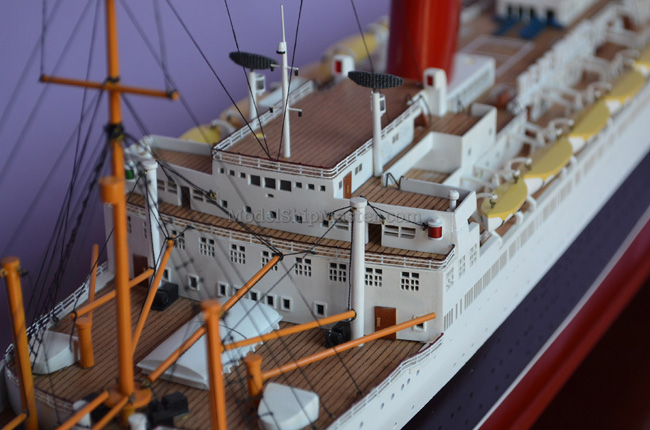 The SS Ile de France was a French ocean liner built in Saint-Nazaire, France for Compagnie Générale Transatlantique (CGT.) The ship was the first major ocean liner built after the conclusion of World War I and was considered the most beautifully decorated ship built by CGT until the SS Normandie.
Never before had a ship had its own style of interior design like the Ile de France. During the past, ships had imitated the shore-style. The Mauretania, the Olympic and the Imperator had all shown an interior that celebrated styles of the past that could be found in manors or châteaux inland. By contrast, the interiors of the Ile de France represented something new. For the first time, a ship's passenger spaces was designed not to reproduce decorative styles of the past but to celebrate the the present.

The ship's degree of modernity was unlike that of any ship previously. The first-class dining room's decor was simple. The dining room was also the largest of any ship, rose three decks high, and had a grand staircase for an entrance.

In addition to the luxurious dining room, there was also a chapel with a neo-gothic style, a grand foyer which rose four decks, a shooting gallery, an elaborate gymnasium, and even a merry-go-round for the younger passengers. Every cabin had beds instead of bunks, and even many of the chairs aboard the Ile de France had a new design.

On June 22, 1927 the Ile de France traveled from Le Havre for its maiden voyage to New York. Upon its arrival in New York it received great attention from the American media and thousands of people crowded the docks just to see the new ship.

With the contribution made by this splendid vessel, the CGT ended the year 1928 with record earnings. For the first time the company's receipts exceeded a billion francs, and half of this derived from the New York service. The ship was popular especially among wealthy Americans. It quickly became the chosen ship of the youthful, the stylish, and the famous. Its popularity was such that by 1935, the ship had carried more first-class passengers than any other transatlantic liner.

SS Ile de France pioneered the quickest mail-system between Europe and the United States. In July 1928, a seaplane catapult was installed at the ship's stern for trials with two CAMS 37 flying boats that launched when the ship was within 200 miles, which decreased the mail delivery time by one day. This practice proved too costly, however, and in October 1930 the catapult was removed and the service discontinued.

In 1935 the Ile de France and the Paris were joined by a new mate, the new superliner SS Normandie. With these three ships the CGT could boast of having the largest, fastest, and most luxurious ships traveling the north Atlantic.


This replica model ship of the SS Ile De France features:
- Superior hollow hull construction (very important), weighing less than 10 lbs (A solid hull of this model would be over 40 lbs which feels like a heavy toy rather than an art piece)

- Hollow superstructure is comprised of many individual thin pieces of wood glued together, not several solid pieces of wood stacking on top one another

- Windows are cutouts (not black decals), thanks to the hollow structures
- Real wood deck, no computer-printed paper

->95% of parts are wood and metal
34" long x 14" tall x 7" wide $2,900
S & H is $90 SOLD OUT

For larger ship model of the France's Ile De France, please click this link: Ile de France ocean liner