256-bit encryption
$500,000 protection



SS CANOPIC
Canopic was originally built in 1990 as Commonwealth for the Dominion Line. In 1903 Commonwealth was sold to the White Star Line and renamed Canopic. The Canopic made her first White Star Line voyage on January 14, 1903 on the Liverpool to Boston service.

In 1904 Canopic was transferred to the New York to Mediterranean service.

From 1917 to 1919 Canopic operated under the Liner Requesition Scheme.

In February 1919, Canopic reverted back to White Star Line, and in July went to the New York to Mediterranean berth.

In 1922 Canopic replaced the Arabic on the Mediterranean route. On April 13, 1922 she made her first voyage on the Liverpool to Halifax to Boston route, then to the Montreal run for the summer.

On November 10, 1922 Canopic started on the Bremen to New York service.

In November 1923 she took over the Hamburg to New York route.

In September 1924 she was put on the Liverpool - Philadelphia - Portland, Maine to end her career.

In October 1924, Canopic was sold for breaking up and scrapped at Briton Ferry, South Wales.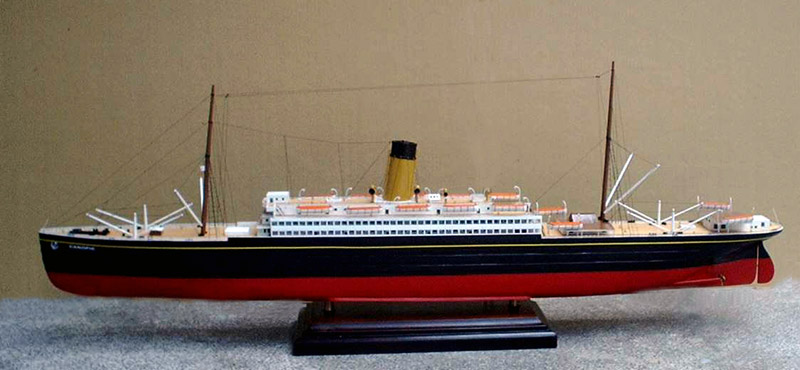 This SS Canopic model features:

- Scratch built

- Plank-on-frame, hollow hull construction (very important), weighing less than 10 lbs (A solid hull of this model would be over 40 lbs which feels like a heavy toy rather than an art piece.)

- Hollow superstructure is comprised of many individual thin pieces of wood glued together, not several solid pieces of wood stacking on top one another.

- Windows are cutouts (not black decals), thanks to the hollow structures.

- No computer-printed paper deck

- >95% of parts are wood and metal

48" long, custom made for a private collector and not for sale. If you want a similar vessel, let us build it for you and click on this link to let us know of your preferences: http://modelshipmaster.com/forms/Commission_questionaire.htm