The SS Stephen Hopkins was a United States Merchant Marine Liberty ship that served in World War II. She was the only US merchant vessel to sink a German surface combatant during the war.

SS Stephen Hopkins got her name from a from Rhode Island's signer of the Declaration of Independence. On September 27, 1942, en route from Cape Town to Surinam, she encountered the heavily armed German commerce raider Stier and her tender the Tannenfels. Because of fog, the ships were only two miles apart when they sighted each other.

The Stephen Hopkins refused to surrender, and the Stier opened fire. Although greatly outgunned, the crew of the Hopkins fought back, replacing the crew of the ship's lone 4 inch (102 mm) gun with volunteers as they fell. The fight was fierce and short, and by its end both ships were wrecks.

The Stephen Hopkins sank at 10:00. The Stier, too heavily damaged to continue its voyage, was scuttled by its crew less than two hours later. Most of the crew of the Hopkins died, including captain Paul Buck. The survivors drifted on a lifeboat for a month before reaching shore in Brazil.

Captain Buck was posthumously awarded the Merchant Marine Distinguished Service Medal for his actions. So was US Merchant Marine Academy cadet Edwin Joseph O'Hara, who single-handedly fired the last shots from the ship's 4-inch gun. O'Hara was the second cadet to receive this award, and the first to receive it posthumously. Navy reservist Lt. Kenneth Martin Willett, gun boss for the 4-inch gun, was posthumously awarded the Navy Cross.

The Liberty ships SS Paul Buck, SS Edwin Joseph O'Hara, and SS Richard Moczkowski, and the destroyer escort USS Kenneth M. Willett (DE-354) were named in honor of crew members of the Stephen Hopkins, and SS Stephen Hopkins II in honor of the ship itself.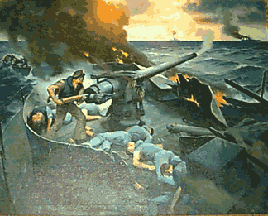 Cadet Edwin Joseph O' Hara fires shells at the Stier (Painting by W.M. Wilson)


Like all of our warship models, this model of the Liberty ship SS Stephen Hopkins has the following qualities:

- Superior hollow hull construction, weighing less than 15 lbs (A solid hull of this model would be over 50 lbs, requiring 2 people to handle and a fortified table to accommodate.)
- Hollow superstructure comprised of many individual thin pieces of wood glued together, not few blocks stacking on top one another.
- Windows are cutouts (not black decals), thanks to the hollow structures.
- Light rust appearance for realism.
- >95% of parts are wood and metal
- Wooden base is included.
- Will have "STEPHEN HOPKINS" on two sides of the bow before shipping.

47"long x 7.5" wide x 14.5" tall (including base's height) $2,500
S & H is $150
Please note that we can change the name and number of the model to any Liberty ship such as the Jeremiah O'Brien or the SS John W. Brown per your request. There's no charge for this service. Please just indicate that during the check out process.


For a display case, please click here: Model Ship Display Case